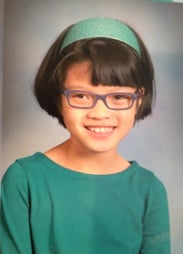 It's a familiar story. A specialist told 6-year-old Grace's parents that nothing could be done about her right eye's outward turn. But through hard work and dedication in vision therapy, Grace's vision and reading problems dramatically improved, making her yet another vision therapy success.
Grace was adopted from China at 6 years old. With mild cerebral palsy as well as convergence insufficiency and exotropia (where one or both eyes turn outward), her parents knew she had functional limitations that could impact her ability to read and learn.
"When she read, you could tell she would turn her head to the side so she only used her left eye," Grace's mother Cindy said. "Her tested reading level was far lower than her age group."
Grace's parents had taken her to an opthamologist in town who couldn't offer any solutions. According to her, Grace would just have to adapt to her vision problem.
"The opthamologist said she didn't need surgery and totally discounted vision therapy," Cindy said. "She simply said nothing could be done."
In 2013, Cindy was referred to The Vision Therapy Center, and she scheduled a consultation for Grace. Though it sounded promising, life was simply too hectic at that time for Grace to commit to an entire vision therapy program. She was still learning English in addition to working through various other therapies.
But that didn't mean we were entirely out of options. We prescribed Grace a pair of prism lenses, which are specially designed to reduce visual stress when reading.
"Just from those glasses, we could tell that her eyes were starting to work together a little more," Cindy said. "Her balance and reading started to improve. We couldn't believe it."
A year later, in the summer of 2014, Grace finally had the time to commit to vision therapy, and her progress would continue to impress us.
Grace Experiences Dramatic Improvement Through Vision Therapy
We enrolled Grace in a nine-month program, which mandated weekly in-office therapy sessions in addition to at-home exercises five times per week. On top of that, Grace was still struggling to learn English and adjusting to life in the United States.
"It was really hard," Cindy admitted. "You have to be willing to commit. We didn't always get it done, but we did as much as we could."
Common exercises involved circling an array of random digits in order from one to thirty, and wearing a patch while reading an eye chart. Her program even included motor activities, such as modified jumping jacks, which required Grace to move her arms down as her legs moved outward.
Nine months later, Cindy said the results were incredible.
"Her eye is no longer turned," she said. "It's almost entirely in line with her left eye. We gradually saw improvement in school, too. Her reading improved, and she started to jump percentiles in testing."
"Vision therapy wasn't always easy," Cindy said. "It really pushed both of us. But in the end, it was totally worth it."