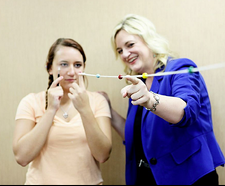 The Vision Therapy Center provides free presentations on how vision therapy can help improve vision and learning. During the presentation, we'll cover:
Different types of vision issues (and how typical vision screening doesn't detect them)
Typical symptoms of a functional vision problem, including how they impact classroom performance
Methods for easing visual fatigue, particularly in the classroom
For teachers in particular, the presentation is an exceptional way to understand why vision problems are affecting a child, and even how they can influence behavior.
Understanding the cause of your students' struggles can help you improve classroom management as you learn how to deal with these issues. We'll be happy to share some successful methods used by fellow teachers.
Besides educators, we're also happy to present to:
Physicians/OTs/PTs
Parents
Optometrists

If you would like more information, simply fill in the form and a representative from The Vision Therapy Center will contact you.
PS - If your group isn't listed here and you're unsure that our presentation would apply, please indicate it on the form and we'll let you know!