Meet the Doctors, Therapists and Staff of The Vision Therapy Center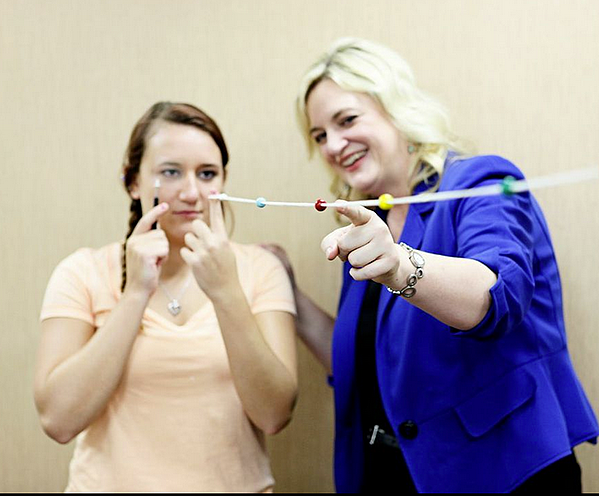 This is a unique set of individuals that share a common trait: All are driven to help improve the vision of their patients.
It's a drive that comes from experience. Each can tell you countless stories of how their work here has dramatically improved the lives of their patients and families. Each has felt the joy of watching a child transform from a resistant reader to a happy student. And everyday, each of them uses that passion and commitment to help you and your children.
Our Doctor: An Expert in Developmental Optometry
Dr. Kellye Knueppel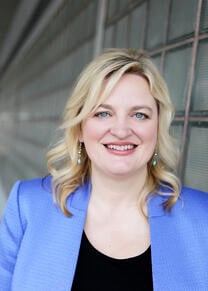 Kellye Knueppel, OD, FCOVD has dedicated herself to helping adults and children overcome their visual problems since opening The Vision Therapy Center in 1995.
On why she pursued a career in optometry and vision therapy: "When I first studied vision therapy during my training as an optometrist, I realized that this was more than simply a specialty. After seeing the tremendous improvement vision therapy made in the lives of children, I committed myself to helping patients young and old overcome the relatively unknown effects of poor vision, often referred to as the 'hidden disability'."
Learn more about Dr. Knueppel's professional background.
Our Vision Therapists
Brian DelFosse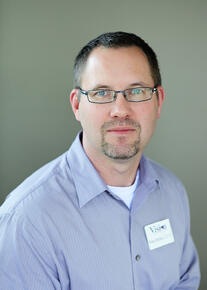 What brought you to The Vision Therapy Center?
I like working with families.

What's your favorite part about being a therapist?
Not only working with families, but seeing the amazing changes that can occur with the patients. I especially enjoy seeing the dramatic changes in the kids.

What has amazed you about vision therapy?
I'm amazed by how much a family this staff is, and how much everyone cares about their patients.

Favorite Movie: The Princess Bride
Favorite Book: I have many. I love science-fiction (fantasy). My favorite authors are Terry Brooks and Piers Anthony.
Hobbies: Fly fishing, regular fishing, golf, landscaping, fly tying, woodworking, and reading.
Family: Two daughters. Cat: Ringo.
My favorite thing to do: Being outside and playing with my kids.
Our Support Staff
Kim Jelinske – Office Manager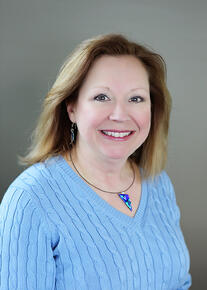 What brought you to The Vision Therapy Center?
My oldest son was struggling in school. I heard a friend talking about this program she was doing with her son and how it was helping him. We talked about it and when I told her I'd already had his eye's checked, she convinced me that this was different. I am glad she did. We came in and started therapy. It was like a new world for us. We always knew how smart he was, now he was able to show us in school, in sports, and in his everyday life. Shortly after he started therapy, I talked with Dr. Knueppel and told her how angry I was that no one had suggested this to us earlier. She asked if I wanted to help spread the word about vision therapy and I jumped on board.

What's your favorite part about being the office manager?
I get to work with most of the families and see how the therapy is improving their lives. I often get to go to school visits for patients and it is great to see how eager the teachers are to help their students.

What has amazed you about vision therapy?
I have been here ten years and, at first, I kept waiting for people to tell me that they had really tried and that it didn't work. Well, I'm still waiting. When people really commit to the program and do the work required to improve their vision, they are not disappointed. My favorite memory was of an adult patient who had never seen anything in 3D – Her world was relatively flat. She worked very hard in therapy and one day I found her crying in the lobby. I asked what was wrong, and she told me they were tears of joy, that she had just seen depth for the first time. I will never forget that day. Or the hundreds of other days talking to patients of all ages who could now do things that were impossible before – get a 100 on a spelling test, memorize all the state capitals, read for more than five minutes at a time, hit a baseball, and so much more.Favorite Movie:Maltese Falcon

Favorite Book: Too many to choose from; anything by Edgar Allen Poe, Catch 22, Sherlock Holmes.
Hobbies: I have a lot! I love any king of knitting, crocheting, needlework, etc. I love to cook and garden. My husband is hoping that soon I will love golf!
Family: I have been happily married for over 25 years and we have three beautiful sons. Two are in college and one is in high school.
My favorite thing to do: Spend time with my family and friends, anywhere, but especially at our cottage.
Renee – Administrative Assistant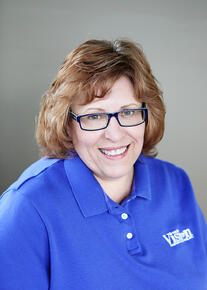 What brought you to The Vision Therapy Center?
The chance to work the Front Desk and interact with people.

What's your favorite part about your job?
Everything, each day is a different schedule and it keeps us going!!

Favorite Movie: Sound of Music
Favorite Book: Laura Ingalls Wilder series
Hobbies: Motorcycling, camping, crafts
Family: Sons Brad and Dillon
My favorite thing to do: Watch hockey, is there any other sport?
Claudia – Administrative Assistant

What brought you to The Vision Therapy Center?
I enjoy helping people.

What's your favorite part about your job?
Getting to know the families and work with children.

Favorite Movie: Gone with the Wind
Favorite Book: Stories My Grandfather Told Me.
Hobbies: Yoga, Tennis, piano, reading.
Family: Husband Paul and Son Luke.
My favorite thing to do: Read outdoors on a beautiful day.