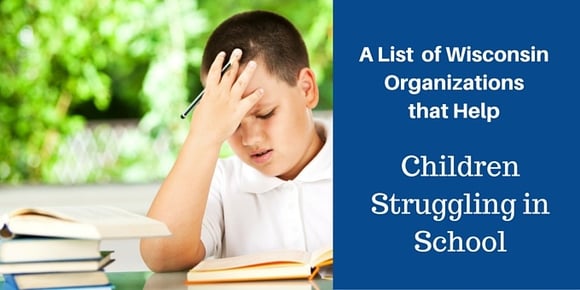 The Vision Therapy Center helps children and adults who have functional vision problems that affect their ability to learn. But children face a variety of other challenges that aren't vision-related, which is why we've created this directory for Wisconsin families whose children struggle in school.
Our listing includes organizations and resources available for families across the state. We consider this list a work in progress, and we plan to continue to add to it as we receive contributions from different organizations that become aware of it.
If your organization would like to be added to this list, simply leave a comment below with your name, email address, the name of your organization, and a brief description and we'll consider including it in the listing.
Autism Society of Wisconsin (ASW)
The Autism Society of Wisconsin (ASW) is dedicated to improving the lives of all affected by autism in Wisconsin by providing information and referral, family support, advocacy, professional development, resource development, and by raising awareness and acceptance.
Note: Here are a list of additional Autism resources outside of Wisconsin provided to us from Caring4OurKids:


Resource Guide for STEM students with Autism
Autism Resources for Families
Sesame Street Autism Resources for Parents
Reduce the Noise: Help Loved Ones with Sensory Overload Enjoy Shopping
CDC Autism Links and Resources
Operation Autism for Military Families
Academic Accommodation Resources
Home Modifications for Autistic Kids
Temple Grandin's Teaching Tips
Digital Resources for Students with Autism
Common Threads Family Resources Center
Common Threads Family Resources Center, located minutes from Madison, WI, offers school and mental health programs geared toward individuals affected by autism, behavioral disorders, and mental health challenges.
Down Syndrome Association of Wisconsin (DSAW)
The Down Syndrome Association of Wisconsin (DSAW) is an organization created for individuals and families affected by Down syndrome to offer assistance, create awareness and gain acceptance of Down syndrome throughout Wisconsin communities. Throughout the state of Wisconsin, DSAW serves more than 4,000 individuals every year.
Epilepsy Foundation Heart of Wisconsin
Epilepsy affects 3 million Americans and 50 million people worldwide, but the lives of family members, friends and co-workers are also deeply affected. The goal of the Epilepsy Foundation Heart of Wisconsin is to help you understand more about the neurological disorder and to share with you the new treatments available while providing programs and services to the public.
Family and Childcare Resources of N.E.W.
In combination with over 20 agencies throughout Wisconsin, Family & Childcare Resources of N.E.W. has led the way in improving quality and safety for children in over 200 childcare centers and family practices in Brown, Door, Kewaunee, Marinette, Menominee, Oconto and Shawano Counties.
Family Voices of Wisconsin is the national Family Voices State Affiliate Organization in Wisconsin. Their mission is to achieve family-centered care for all children and youth with special health care needs and/or disabilities. Through this national network, Family Voices provides families tools to make informed decisions, advocates for improved public and private policies, building partnerships among professionals and families, and serves as a trusted resource on health care.
Imagine a Child's Capacity (ICC) is a program of Family Service Madison. They are a nonprofit organization that imagines the capacity of a child with diverse support needs when parents, teachers, peers and the community have a wide array of tools to support that child reaching his or her fullest potential.
Parent to Parent of Wisconsin provides support to parents of children with special needs through a one-to-one connection with another parent who has a similar experience and who knows firsthand about the feelings and realities that come with having a child with special needs.
Supporting Families Together Association
Supporting Families Together Association is Wisconsin's statewide member association for organizations and individuals committed to making every early childhood a great one. Their core membership consists of Wisconsin's Child Care Resource & Referral Agencies (CCR&Rs) and Family Resource Centers (FRCs).
The Vision Therapy Center provides vision therapy to correct functional vision problems. Vision therapy is a series of specific visual activities prescribed by a licensed developmental optometrist to improve the performance of a person's visual system. Vision therapy typically includes prescribed functional vision glasses; daily visual activities; and in-office visits with a vision therapist.
The Waisman Center, located at the University of Wisconsin-Madison, is dedicated to "advancing knowledge about human development, development disabilities, and neurodegenerative diseases" through research, training, service and outreach. We found this fantastic PDF on their site: A Navigation Guide for Wisconsin Families Who Have Children and Youth with Special Health Care Needs and Disabilities.
The WiAdopt website includes information and resources for families interested in adoption, birth parents interested in learning about making an adoption plan for their child, and tools for child welfare staff.
Wisconsin Department of Health Services - Children and Youth with Special Health Care Needs
The Children and Youth with Special Health Care Needs Program collaborates with national, state and community-based partners to link children to appropriate services, close service gaps, reduce duplication and develop policies to better serve families.
They want to assure that children and youth with special health care needs are identified early, receive high quality coordinated care, and receive, with their families, the support they need.
Wisconsin Educational Services Program Deaf and Hard of Hearing
The Wisconsin Educational Services Program for the Deaf and Hard of Hearing (WESP-DHH) Outreach Program supports children who are deaf, hard of hearing, and deafblind by providing a broad array of services to families and educational programs. Services are provided at no cost and are based on the needs of each individual child.
Wisconsin Family Ties is an organization run by families for families with children and youth who have emotional, behavioral and mental disorders. Wisconsin Family Ties provides support, advocacy, information, and training for families and professionals through Parent Peer Specialists who are available throughout the state.
Wisconsin's Assistive Technology Program (WisTech)
WisTech is Wisconsin's assistive technology program that provides information on selecting, funding, installing and using assistive technology. Assistive technology (AT) is any product or device that enables people with disabilities to improve their independence and quality of life in the community, at home, at work, and at school. AT items include commercially-made equipment, custom-made devices or common products that have been modified to serve a specific need.