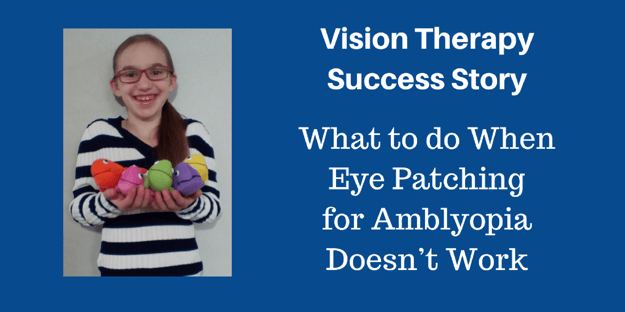 What do you do when eye patching for amblyopia doesn't work? For Lydia and her family, the solution was vision therapy. By retraining her eyes to work together, Lydia overcame amblyopia and a number of other functional vision issues.
We always publish vision therapy success stories on our blog, combining our patient's story with a medical explanation of their functional vision problem. This success story is about Lydia MacDonald, and it was written by her mother, Amanda.
You can read the actual handwritten letter here. We've also transcribed the letter, and added in a few comments. You'll note that Lydia suffered from functional vision conditions beyond just amblyopia -- but the ineffective eye patching therapy recommended to her by her doctor was ultimately what brought her to us.
Functional Vision Problems Can be Corrected at Any Age
Amanda's letter begins:
Dear Vision Therapy Center,
I just want to take the time out today to write a note of thanks. We came to the VTC after several unsuccessful months of traditional patching therapy with an ophthalmologist. My daughter was nine when we found her vision issues. So knowing we were late in the game, her prognosis was never great with them [the ophthalmologist]. Yet every few months, we marched into their office and they would put Lydia in the chair and ask her to read letters. And each month she would sit there silently occasionally shaking her head no she couldn't see them...still… It was heartbreaking for me to watch.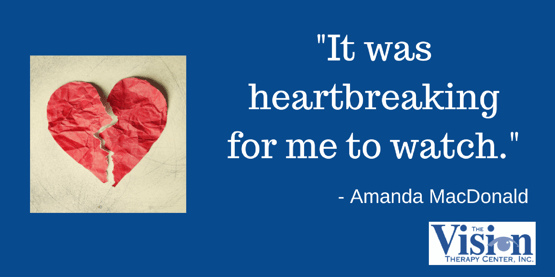 Note that Amanda says "we were late in the game." There is a misconception that, after a certain age, vision problems such as amblyopia cannot be corrected.
The truth is that although we see faster results in younger patients, amblyopia can be corrected at any age, due to the brain's plasticity and ability to relearn visual skills.
Our blog post "Can a Lazy Eye be Corrected in Kids AND Adults?" provides more details.
Eye Patching for Lazy Eye was Frustrating and Ineffective
Her last appt. we went to was the visit where she was still at 20/60 after months. The Dr. began questioning Lydia and myself to see how much she was wearing the patch and if she was peeking / or cheating with it. And after she timidly nodded yes she did sometimes look around it, he began chastising her and telling her that was a "BIG NO." That was the moment I knew we were walking out of that office and not going back in.
It should be noted that eye patching can be part of an effective overall treatment program -- in conjunction with vision therapy. But we're not surprised that both the MacDonalds and Lydia's doctor grew frustrated with the treatment approach.
We define amblyopia (or lazy eye as it is sometimes referred to) as "the lack of development of clear vision in one or both eyes." When the image in one eye is affected, the brain cannot combine the two images it receives from the respective eyes effectively. It then suppresses, or "turns off," the images it receives from one of the eyes. This impairs binocular vision, which affects visual skills such as depth perception and eye teaming.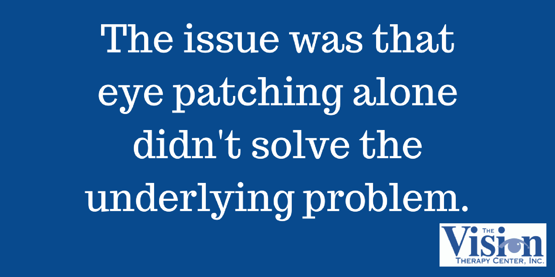 The issue was that eye patching alone doesn't solve the underlying problem. Binocular vision, or the ability for the two eyes to work together, must be developed. In the case of amblyopia (which was just one of several issues that affected Lydia), the two eyes were not working together.
"She Didn't Have a Bad Eye -- Just Two Different Ones"
Then slowly we were led to discover vision therapy and the VTC. And so we started. I remember those first days of testing and how some of it was just so fascinating. But then! The chair and the chart. I remember at one point Dr. Brandon asking Lydia if she could read any letters on the line, and I wanted to Deck Him! And shout "She can't see them! Don't you know it makes her feel like a failure to sit there?!"
But I honest to goodness sat on my hands and waited. And I witnessed even during that first exam the kindness and encouraging Dr. Brandon slowly persuaded her to try just a bit. When she would quietly say a letter (even an incorrect one) he'd respond with an encouraging "okay good." And afterwards he made sure to impress upon her she didn't have a "bad eye" just two different ones and we were just going to work on letting both eyes work together and get equal "play time." We walked out uplifted and with hope.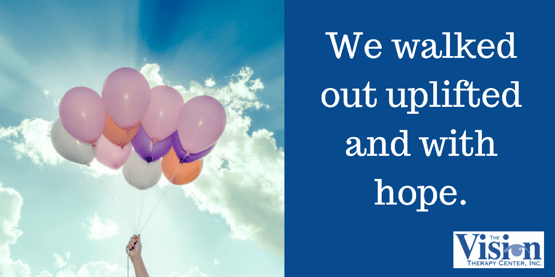 The "Dr. Brandon" that Amanda refers to is Dr. Brandon Begotka of The Vision Therapy Center. He emphasizes "letting both eyes work together," which was a way of explaining to Lydia that the goal of her vision therapy treatment plan was to develop binocular vision.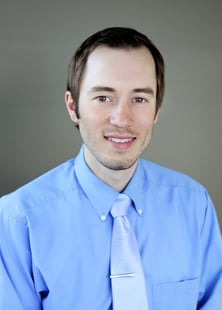 Dr. Brandon Begotka
Coaxing Lydia out of her Comfort Zone
Next was therapy. Dr. Navarro was amazing. She motivated Lydia right from the beginning. She always gave Lydia the confidence to know she could do it. Dr. Navarro always made sure to tell Lydia what a great job she was doing and that she was proud of her. She'd coax Lydia out of her comfort zone again and again. Lydia was sure she could do it because Dr. Navarro had faith she could.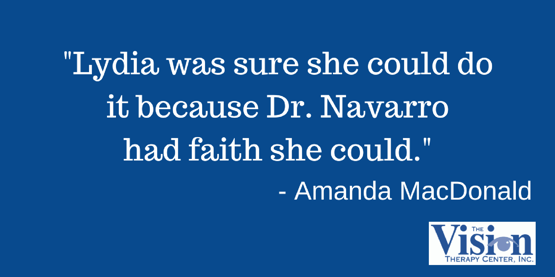 Retraining the visual system is no easy task. With functional vision problems, the brain has worked out a solution to the issue of difficulty developing binocularity-- in Lydia's case, the brain was suppressing one of the two images sent by her eyes.
We often see people with functional vision problems who have adapted to their issues so that they can get through the day. We once had a patient with double vision who told us she always chose the image on the left, because that was the "real one."
Lydia's visual system was functional, but not allowing her to realize her true potential. Dr. Heather Navarro, whom Amanda mentions above, worked with Lydia.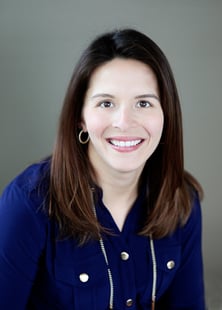 Dr. Heather Navarro
It's About More Than Just Getting Her Sight Back
In the end, all of Lydia's hard work paid off.
Then of course there was our first moment of truth. One of the first times Lydia sat in "that chair" nervous but with a bit of confidence. And again, Dr. Brandon was so supportive and encouraging and so her confidence grew as she spoke the letters. Not whispered, but spoke. She didn't sit there silently holding back tears. She read off more letters than she ever had.
Now here we find ourselves at the end. How far she has come. It wasn't just getting her sight back and depth perception. It was about building her self-esteem. Finding she could focus and give attention to school work. Suddenly having the ability to "keep a beat" during her music lessons. Discovering she loved to draw and could better and better at it. And all the things that are still to come!
So thank you all for being there. For cheering Lydia on her way. For guiding her through the process of binocular sight. For taking part in her life. We thank you!
The MacDonald Family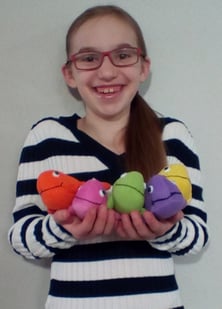 One happy kid: Lydia shows off her prizes she won for vision therapy progress. Yay Lydia!
The Vision Therapy Song
The MacDonalds wrote the following song to help make the vision therapy sessions fun. Vision therapy is a series of activities and exercises designed to retrain the visual system. The exercises can be hard work, particularly for a child, so sing-alongs like this one from the MacDonads can make the experience fun while also reinforcing therapy goals.
Sung to the tune of "This Old Man."
ACC you and me, doing vision therapy
With a knick knack paddy whack
Give a pig a wig
Red rock makes your brain grow big
Aaa-rrows facing every way
Isn't this a fun way to play
With a knick knack paddy wack
Look! We've done four rows!
Let's go have duck and pigeon toes!
Jumping jacks, Brock string,
Mental minus makes me sing
With a Knick Knack paddy whack
Look a bug on a string!
Let's go find some red rocks to fling.
Lydia MacDonald's Functional Vision Problems - A Clinical Overview
In this section, we share some of Lydia's diagnosis and clinical progress for fellow optometrists and medical practitioners.
Initial Diagnoses
Refractive Amblyopia, Convergence Insufficiency, Irregular Saccades
Visual Acuity
Pre-Vision Therapy
| | | |
| --- | --- | --- |
| Aided | Far | Near |
| OD | 20/40 | 20/40 |
| OS | 20/20 | 20/20 |

Post-Vision Therapy
| | | |
| --- | --- | --- |
| Aided | Far | Near |
| OD | 20/40 | 20/40 |
| OS | 20/20 | 20/20 |
Near Point of Convergence
| | |
| --- | --- |
| Pre-Vision Therapy | |
| NPC | TN |
| After 5x | 0.5"/1" |
| With red lens | 4"/20" |
| | |
| --- | --- |
| Post-Vision Therapy | |
| NPC | TN |
| After 5x | TN |
| With red lens | TN |
Vergence Ranges
| | | |
| --- | --- | --- |
| Pre-Vision Therapy | | |
| FAR | FAR | NEAR |
| BI | X/24/4 | 24/30/16 |
| BO | X/18/0 | X/20/0 |
| | | |
| --- | --- | --- |
| Post-Vision Therapy | | |
| FAR | FAR | NEAR |
| BI* | X/18/0 | X/24/12 |
| BO | No break (>40) | X/20/4 |
*As is often the case, base out vergences improved first. Lydia is continuing to work on base in vergences with a home therapy program and is expected to improve in the 3 months following completion of therapy.

Accommodative Amplitudes
| | |
| --- | --- |
| Pre-Vision Therapy | |
| OD | 2.25 |
| OS | 10.75 |
| | |
| --- | --- |
| Post-Vision Therapy | |
| OD | 9.50 |
| OS | 13.50 |
Take the Vision Quiz: The First Step Toward Detecting a Problem
If you think you or your child may be suffering from a functional vision problem, the first step toward diagnosis is to take The Vision Quiz. It can help you identify if you're suffering from any of the symptoms associated with a functional vision problem.