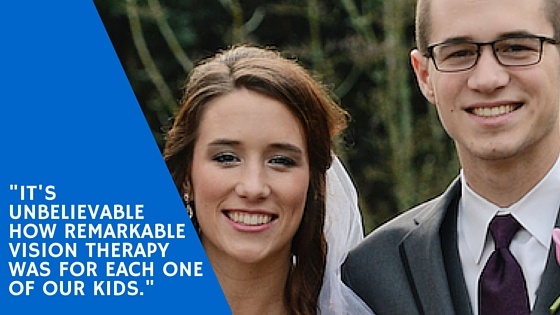 Nothing can stop a mom who knows there's something wrong with her child, and will fight tooth and nail to find the solution to the problem. Case in point: The Bloodworth family, where vision therapy helped not one, but two children.
Meet Elizabeth and Phillip Bloodworth and their children, Makenzie and Spencer. We're always amazed not only by the success vision therapy can have with kids (and adults), but also by the determination that parents show to get the help their children need.
In this case, the Bloodworths showed a double-dose of determination. Their reward, as you're about to learn, was something special.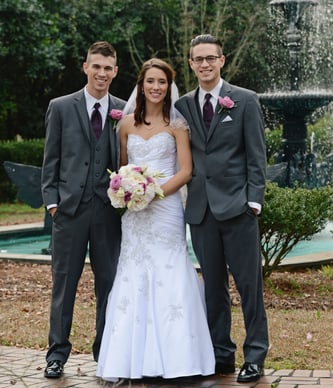 The Bloodworth children. From left: Tyler, Makenzie and Spencer
Makenzie's Story
In second grade, Makenzie was diagnosed with dyslexia. She was struggling in school, and her teachers wanted to put her in a remedial class. In her heart, Elizabeth knew something was wrong beyond the dyslexia diagnosis, and she wasn't satisfied with the school's recommendation.
A relative recommended the family look into vision therapy, and she visited The Vision Therapy Center for a functional vision exam. Not only did the results confirm Elizabeth's suspicions, but the family was floored with what they learned from Dr. Kellye Knueppel and her team.
"They were able to show us physical examples of what Makenzie was seeing," Elizabeth said. Not only did the Bloodworths learn how their daughter's visual system was working, but "they explained everything in a way that we could understand it."
It was a breath of fresh air for Elizabeth, who was upset with the school's rather complacent reaction. "It's like they said you have a club foot and we're going to teach you how to walk on it," she recalls. "The Vision Therapy Center said they were going to fix the problem."
Fix it they did. Diagnosed with functional and perceptual vision deficiencies in a number of areas, Makenzie underwent nine months of vision therapy.
To make the vision activities not seem too regimented, the Bloodworths performed the tasks right alongside their daughter. Soon she was performing some of the activities better than her family, which set off another light bulb for Elizabeth (more on that in a bit).
Elizabeth recalled the first time the family realized vision therapy was really working. Makenzie had always struggled with letter-reversals and words jumping on the page when she read. Reading a multisyllabic word was nearly impossible.
One night, Elizabeth found her daughter reading a Berenstain Bears book by herself. She sounded out the word "furniture" for her mother - all on her own. "I still get tears in my eyes when I tell the story," mom said.
Although reading was still difficult, the vision therapy allowed her to thrive. She graduated from a rigorous high school with a 3.98 GPA, and subsequently graduated from Aveda cosmetology school at the top of her class.
But the Bloodworth's story doesn't end there. In fact, it was just the beginning.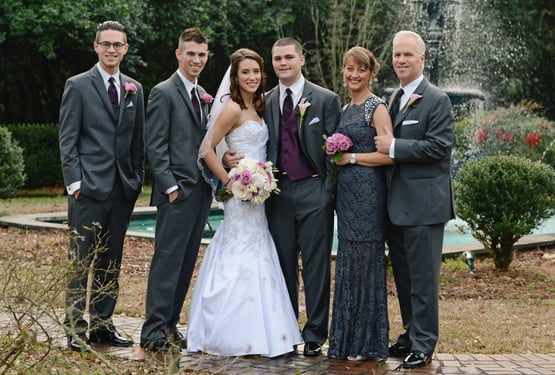 The Bloodworth Family - From left, Spencer, Tyler, Makenzie, Makenzie's husband Brodie, Elizabeth (mother), Phillip (father).
Spencer's Story
Makenzie's younger brother is Spencer (the family has an older son as well: Tyler). The family home-schooled the children for their younger years, and all along, Elizabeth noticed Spencer was "kind of a wild hair."
Spencer attended high school, where he struggled with his focus in class, exhibiting ADHD symptoms. "He wasn't a bad kid, but he was always kind of the class clown," Elizabeth said. "He was always borderline disruptive, and his grades were starting to slip."
Knowing the success of vision therapy for Makenzie, and realizing that the school had no solutions, the family made another visit to Dr. Knueppel. Spencer was diagnosed with convergence insufficiency and accommodative dysfunction.
At the age of fifteen, the last thing Spencer wanted to do was vision therapy activities, and he assured his parents that they were wasting their money. (The Bloodworth's vision therapy was not covered by their insurance.)
Yet Elizabeth trusted her heart, and she knew her son could be helped. They stayed the course, and Spencer went through therapy.
If Spencer experienced any changes from therapy, he didn't share them. At least at first. But his teachers did. At teacher conferences, two teachers said the same thing to the Bloodworths: "I don't know what you did to Spencer, but he's not the same in the classroom as he was last year," they reported.
Spencer eventually expressed how differently he felt as well. "Mom, I can sit in the classroom, listen to the teachers, hear them, and understand what they're saying," Elizabeth recalled.
As he was telling his mother, she said, "he almost had tears in his eyes - or was as close to it as you're going to get with a fifteen-year-old boy."
Her son's life changed outside of the classroom as well. The vision therapy affected his motor coordination (we'll touch on this in a future post), and instead of running like a "scarecrow" suddenly "he ran like a normal person."
"Dr. Knueppel said it changed his internal awareness of his center of gravity," Elizabeth noted. "He was now in serious game mode.'
This week, the family is moving Spencer to Florida, where he will attend Full Sail University and pursue a degree in the recording arts.
Mom and Dad's Story?
Remember how Makenzie bested her family in many of the vision activities? That has always stuck with Elizabeth. Having seen the impact vision therapy has had on her children, she and husband Phillip are scheduled to begin their own therapy in December.
"It's unbelievable how remarkable vision therapy was for each one of our kids," Elizabeth noted. We hope - and we know - the same will hold true for Mom and Dad.