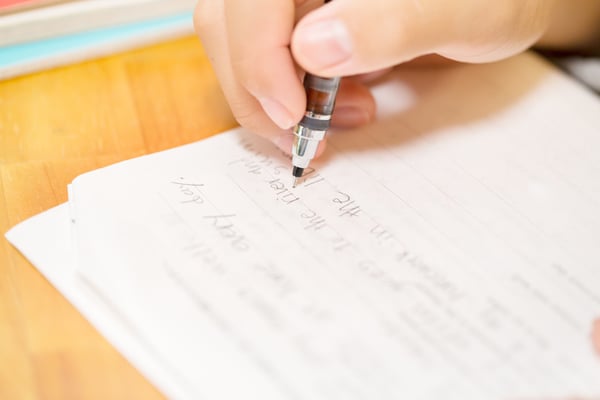 Why does a gifted reader spend 3 hours a night struggling with homework?
And why was this same seventh grader suddenly unable to read anything more challenging than a comic book?
For seventh grader Leah and her mother Carrie, there wasn't an immediate answer. Probably because Leah's struggles with schoolwork and reading sheet music didn't just suddenly occur.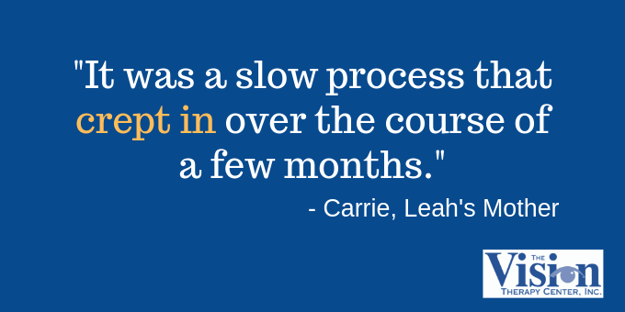 "It was a slow process that crept in over the course of a few months," Carrie recalled.
Leah had always been an advanced and voracious reader. During seventh grade, however, things began to change.
"I kept getting headaches during school," she said. "And my eyes were always red. You could tell they were under stress."
Carrie became concerned that Leah was spending upwards of three hours on homework. "I would comment about how long it was taking Leah to do her homework to other parents," she said, "and they'd tell me their kids weren't spending nearly that much time."
Only Comic Books Were Comfortable
Carrie took her daughter to an optometrist, who couldn't find anything wrong. Her eyesight was good, and the doctor initially thought it could be dyslexia. But Leah's symptoms were strange.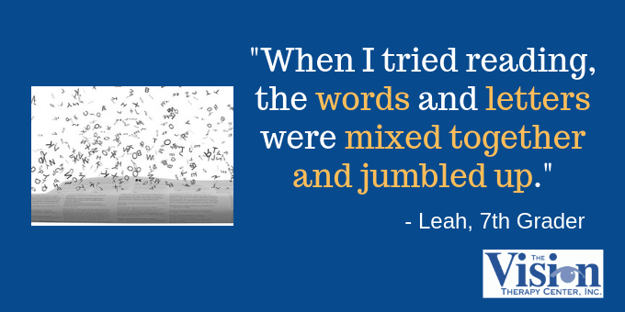 "When I tried reading, the words and letters were mixed together and jumbled up," she said. "I was having trouble figuring out what the words said. I could only read comics comfortably."
The eye doctor thought perhaps Leah was suffering from a functional vision problem, and a visit to The Vision Therapy Center was in order.
Functional Vision Problem Different Than Typical Vision Problems
What is a functional vision problem?
Functional vision is how your entire visual system -- the eyes, the brain, the visual pathways -- work together to help you interact with your environment. Functional vision includes the following visual skill areas: eye teaming, eye focusing and eye movement.
School screening tests may not detect a functional vision problem if a person is only being tested for visual acuity.
Acuity is your ability to see something clearly. But testing for acuity alone won't detect a functional vision problem. In fact, you can have 20/20 eyesight, yet still have a functional vision problem.
Functional vision tests require specialized equipment and training; both of which could be found at The Vision Therapy Center.
Diagnosed With Convergence Insufficiency and Ocular Motor Dysfunction
Leah underwent a Functional Vision Exam and was diagnosed with convergence insufficiency and ocular motor dysfunction.
Convergence insufficiency (CI) is a problem with 'eye teaming.' A person may be unable to converge their eyes or to sustain convergence. This can result in discomfort and even double vision when performing near-point tasks such as reading.
Ocular motor dysfunction occurs when there is the absence or defect of controlled, voluntary and purposeful eye movement. (Thanks to our friends at Advanced Vision Therapy Center for their succinct definition!)
To overcome CI and ocular motor dysfunction, vision therapy was recommended.
Vision therapy helps the patient develop the visual skills necessary for good functional vision. Optical devices and exercises are used to improve the eye-brain connection in order to make eye movements easier and more efficient.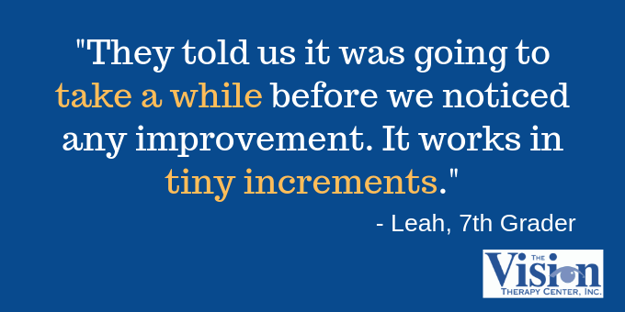 The therapy can take months. "They told us it was going to take a while before we noticed any improvement," Leah said. "It works in tiny increments."
Exponential Improvement
All told, the therapy took eight months. During that time, Leah performed vision therapy exercises at home, every day. Once a week, she met with Dr. Heather Motisi, who was guiding the therapy.
"Both Dr. Begotka (who made the diagnosis) and Dr. Motisi were really great," Leah said. "Dr. Motisi made me feel comfortable, and we'd goof around. She made a huge difference."
The process was long, but the payoff was worth it.
"You're going week after week, and at the beginning you're wondering if this is helping," Carrie said. It did. At a certain point, Leah's vision became "exponentially better."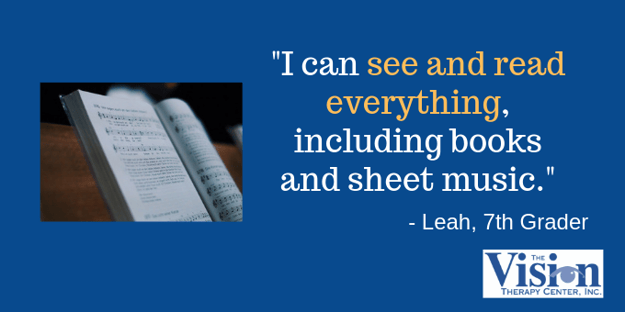 "I can read now, which is definitely awesome," Leah said "I can see and read everything, including books and sheet music."
Carrie notes her daughter's vision has returned to the state it was before the vision therapy was needed. And the entire experience has made such an impact on Leah that she has actually job shadowed Dr. Begotka.
"It was a cool experience to see what it was like on the other side of therapy from the doctor's perspective," Leah said.
We hope Leah decides to pursue a career as a developmental optometrist, so she can help other children and adults, just as The Vision Therapy Center helped her.
Optometry school won't be a walk in the park, but now that Leah has a properly functioning vision system, it sure will be a whole lot easier.
Leah's Functional Vision Problem - A Clinical Overview
In this section, we share some of Leah's diagnosis and clinical progress for fellow optometrists and medical practitioners.
Initial Diagnosis
Convergence Insufficiency
Irregular Saccades
Visual Acuity
| | | |
| --- | --- | --- |
| Unaided | FAR | NEAR |
| OD | 20/20 | 20/20 |
| OS | 20/20 | 20/20 |
Near Point Convergence
| | |
| --- | --- |
| Pre-Vision Therapy | |
| NPC | 1"/2" |
| After 5x | To Nose with effort |
| With red lens | TN |
| | |
| --- | --- |
| Post-Vision Therapy | |
| NPC | TN |
| After 5x | TN |
| With red lens | TN |
Vergence Ranges
| | | |
| --- | --- | --- |
| Pre-Vision Therapy | | |
| FAR | FAR | NEAR |
| BI | x/14/6 | x/18/9 |
| BO | x/12/6 | x/9/4 |
| | | |
| --- | --- | --- |
| Post-Vision Therapy | | |
| FAR | FAR | NEAR |
| BI | x/14/6 | x/14/12 |
| BO | x/22/18 | x/30/24 |
Accommodative Amplitudes
| | |
| --- | --- |
| Pre-Vision Therapy | |
| OD | 13.25 |
| OS | 13.25 |
| | |
| --- | --- |
| Post-Vision Therapy | |
| OD | 11.25 |
| OS | 11.25 |
Take the Vision Quiz: The First Step Toward Detecting a Problem
If you think you or your child may be suffering from a functional vision problem, the first step toward diagnosis is to take the Vision Quiz. It can help you identify if you're suffering from any of the symptoms associated with a functional vision problem.