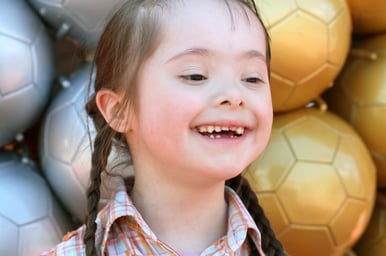 This summer, 6,500 athletes from 165 countries came together in Los Angeles for the 2015 Special Olympics World Summer Games. As part of a team of five invited international volunteers, Dr. Kellye Knueppel worked aside hundreds of local optometrists and optometry students, performing over 2,000 vision assessments over the course of seven days.
The vision assessments were part of the Healthy Athletes program. The Special Olympics launched the program in 1997 in response to the lack of quality healthcare for people with intellectual disabilities.

Since then, Special Olympics has become the largest global public health organization specifically for people with intellectual disabilities, providing more than 1.4 million free health exams to these athletes.
Over 120,000 health care professionals from around the globe have been trained to provide exams in seven different areas: general fitness, podiatry, hearing, dental hygiene, healthy lifestyles, sports physicals, and, of course, vision.

That's where Dr. Knueppel, The Vision Therapy Center and the Lions Clubs International Foundation comes in. Since 2001, the Lions Clubs International Foundation, in conjunction with Special Olympics, has contributed more than $1 million each year globally, bringing proper eye care to the Special Olympics and its athletes through the Healthy Athletes Opening Eyes program.

It's a multi-year, multi-million dollar commitment that also includes a robust volunteer component. Thousands of volunteers from more than 80 countries assist with registration, vision assessments and distribution of glasses and protective sports goggles.
The Vision Therapy Center's Unique Contribution

Dr. Knueppel is one such volunteer. Seeing a real need to bring The Vision Therapy Center's expertise in the area of functional vision to the games is a primary motivator for her involvement in the Special Olympics Lions Clubs International Opening Eyes program.
"We have the expertise not only in performing the assessments, but we are also able to modify the prescription for the glasses when needed to make them easier and more comfortable for the athlete to use," she said.

High power glasses prescriptions are very common in special needs populations. This can make it very difficult for the athletes to get used to their glasses, as this often causes discomfort and sometimes even pain. Modifications to the glasses prescription can be made using functional testing to make the eyewear comfortable from the start.

Because so many of these athletes don't have the resources to get follow-up vision care outside of the assessments provided during the games, it is critical that they leave with their new or modified eyewear, says Dr. Knueppel.
"At this year's summer games, we fabricated and dispensed eyewear to approximately 1,200 athletes."
Seeing Special Needs in a Whole New Light

As both the Clinical Director for the Wisconsin Opening Eyes program as well as Regional Clinical Advisor for North America, Dr. Knueppel is passionate about helping these athletes, many who simply cannot afford the cost of routine vision care, let alone specialized care for functional vision problems.

"In addition to providing these much needed assessments, we also see the program as an educational opportunity, says Dr. Knueppel. "We strive to help more vision care professionals get comfortable working with those with special needs."

There is also a general perception that it's not possible to perform an eye exam on someone who isn't able to communicate verbally. The Opening Eyes program is one way to show athletes and their caregivers that it is possible to do a complete vision exam without speaking. Many of the tests used in the Opening Eyes program are chosen to make that possible.

Through generous donations from the Lions Club International Foundation, Safilo and Essilor, Dr. Knueppel and the other committed volunteers performed a record number of vision assessments at this year's summer games in Los Angeles.
It's a tradition Dr. Knueppel and The Vision Therapy Center look forward to continuing at the next Special Olympics Winter Games in Austria in 2017 and beyond.