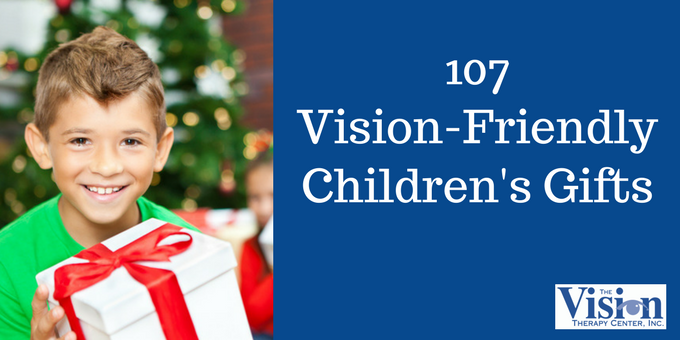 It's that time of the year! Time when stockings are filled and gifts are exchanged. To help parents pick out the toys that will enhance a child's visual development, we're offering up our 2017 list of 107 optometrist-approved children's toy list!
We started our vision-friendly gift list because we wanted to produce a list of toys that will enhance a child's visual development, particularly their functional vision skills.
Functional vision is how your entire visual system -- the eyes, the brain, the visual pathways -- work together to help you interact with your environment. Functional vision includes the visual skill areas of eye teaming, eye focusing and eye movement.
With each toy listing, you'll find how these toys can improve your child's functional vision.
When selecting a toy or activity, be sure to align the gift with their developmental age, rather than their actual age.
If your child has a functional vision problem, you should always consult with your developmental optometrist.
Happy Holidays!
Building Toys
Develop eye-hand coordination and visualization/imagination.
Roller Coaster Challenge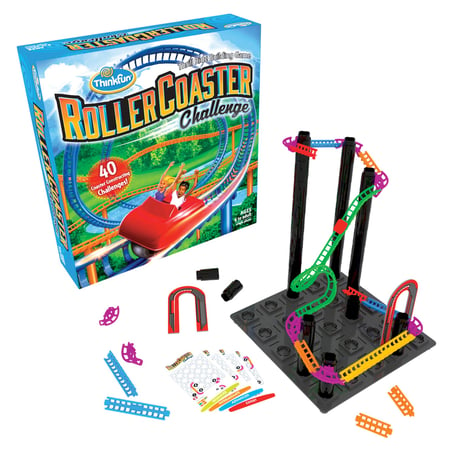 Photo Courtesy of ThinkFun, Inc.
Roller Coaster Challenge - Build an amusement park in your living room! In this thrilling engineering challenge, players get to build their very own roller coasters. Start by choosing a challenge card and setting up the pieces to match. Then, players use the remaining pieces to build a working roller coaster that meets the build conditions on their challenge card. Roller Coaster Challenge incorporates elements of a logic puzzle, while also allowing for the creativity that stems from free-form building. Once you have solved each challenge, you get to watch a real coaster car glide down the track, complete with dips, curves, and loops! Roller Coaster Challenge earned American Specialty Toy Retailer Association's (ASTRA) Best Toys for Kids Award in the Logic Skills category and a National Parenting Products Award! (Ages 6+)
Magformers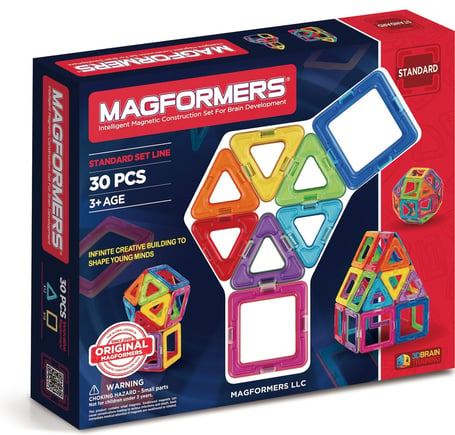 Photo courtesy of Magformers.
Design and create, unique one-of-a-kind builds with Magformers. Build your very own castles, racecars, robots and many more items with Magformers patented "always attracting" technology. Magformers is the industry leader in magnetic construction toys. With over 30 different geometric shapes, Magformers promotes creativity, imagination and constructional play.
VEX Robotics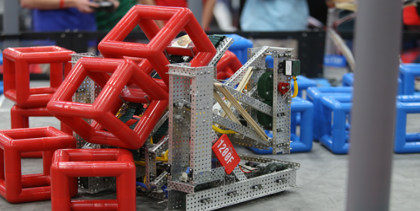 VEX Robotics is a highly-versatile construction that allows students to build whatever they can imagine. It allows students a platform to immerse themselves in the areas of Science, Technology, Engineering and Math through the fun of building robots.
Other toys:
Kreo Sets
Mega Bloks
K'NEX
Building Blocks
Legos/Duplos
Lincoln Logs
Tinker Toys
Erector Set
Fine Motor Skill Toys
Develop visual-motor integration and fine motor skills.
Origami Sets
Rainbow Loom
Lite-Brite
Pegboard and Pegs
Coloring Books and Crayons
Dot-to-Dot Activity Books
Finger Paints
Playdough/Silly Putty/Modeling Clay
Chalkboard (24" x 36")/Easel
Bead Stringing
Sewing Cards (Craft)
Paint or Color By Numbers
Sand Art
Stencils
Bead Craft Kits
Models (car, airplane, ships, etc.)
Jacks
Space Perception Toys
Develop depth perception and eye-hand coordination.
Within arm's length:
Jumpin' Monkeys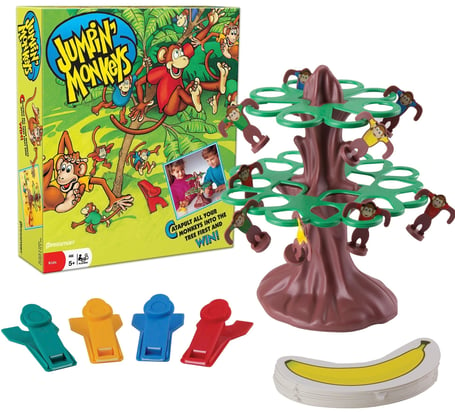 Jumpin' Monkeys will have you jumpin' for fun! This cute game has been beloved for years. Players catapult all of their monkeys into the tree first to win! Introduce a new generation to this wonderful game today! For 2 to 4 players, ages 5 and up.
Other toys:
Egg and Spoon Race
Flippin' Frogs
Ants in the Pants
Fishin' Around
Operation
Pick-up Sticks
KerPlunk
Jenga
Don't Break the Ice
Marbles
Cornhole Bean Bags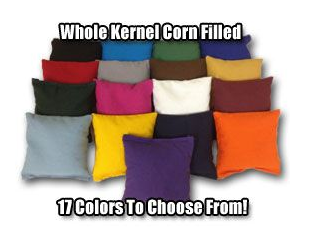 A classic! You can't go wrong with a set of cornhole bean bags. We found these at the Cornhole-store.com. (Naturally you'll need a bean bag toss board to go with it!)
Beyond arm's length:
Bowling Zombies
Oball (good for kids who have difficulty catching balls)
Ball (any kind!)
Pitchback
Toss Across (tic-tac-toe)
Ring Toss
Nerf Basketball
Dart Games (velcro)
Ping Pong
Cuponk
Elefun
Badminton
Frisbee
Visual Thinking Toys and Games
Develop visual perceptual skills including: visualization, visual memory, visual discrimination, pattern recognition and sequencing. These skills are important for academics including mathematics, reading and spelling.
Color Cube Sudoku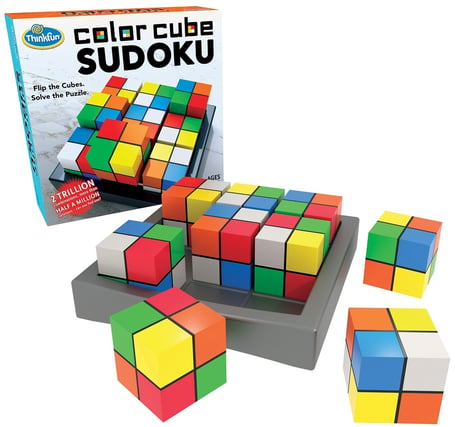 Photo Courtesy of ThinkFun, Inc.
Color Cube Sudoku: Stimulating play + 3D logic puzzle = perfect for kids and adults alike. Flip & rearrange all 9 color cubes on the 3x3 tray until each color appears once in every row and column. It will take more than a couple flips of a cube to master this brilliant Sudoku puzzle. Once you've conquered the traditional Sudoku pattern, give your brain a real workout with fun bonus challenges! Color Cube Sudoku is a Parents' Choice Gold Award winner and earned finalist status in American Specialty Toy Retailer Association's (ASTRA) Best Toys for Kids! Available nationwide on Amazon and in neighborhood toy stores. (Ages 8+)
//CODE: Rover Control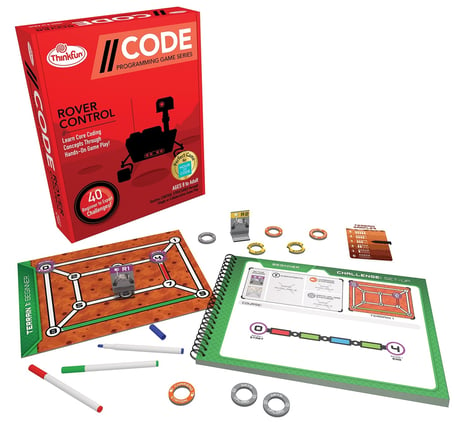 Photo Courtesy of ThinkFun, Inc.
//CODE: Rover Control – Strategic thinking + coding education = best educational gift under $20. Prepared for a programming space mission? In this 40-challenge game two Rovers have been sent to explore Mars. The trouble is, the Rovers are programmed to travel on color and most of the pathways were left colorless in a dust storm. You'll need to call on your critical thinking skills to correctly color the pathways so the Rovers stay on course. Challenges introduce "decision points," "loops," and "increment instructions" as you progress--all advanced computational skills that are delicately embedded into a fun play experience and will have you thinking like a true programmer. (Ages 8+)
Kanoodle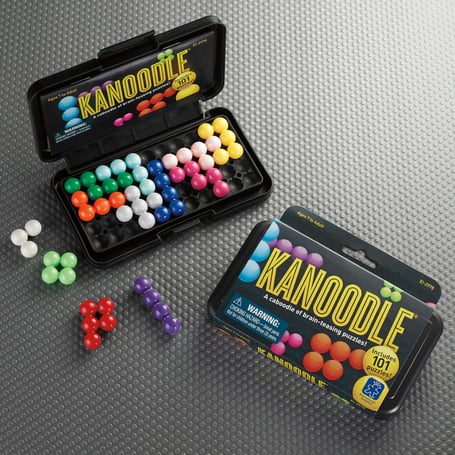 Photo courtesy of Educational Insights.
Challenge yourself with this award-winning, brain-twisting game. Kanoodle contains more than 100 puzzles, perfect for hours of solo play. Just place the pieces shown in the puzzle book, and decide where the rest of the pieces go to complete the puzzle. Varying levels of difficulty will help develop problem solving, strategic thinking and spatial reasoning skills. For a more challenging game, try Kanoodle Genius or Kanoodle Extreme. For an easier version, Kanoodle Jr. offers the same great game concept for players as young as 4.
UNO

Photo courtesy of Mattelgames.com.
UNO is a number and color matching game of cards that's fun and easy for kids of all ages. UNO can be played with 2 to 10 players and is appropriate for ages 7 and over. The player who plays first must match a card in their hand to the card on the discard pile. Play continues until one player uses all of their cards. A classic!
Spot It!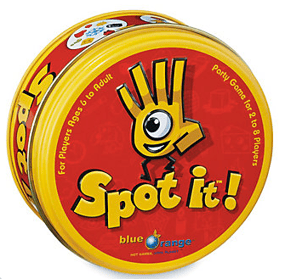 Photo courtesy of Mindware.com.
Spot It! is also a number and color matching game of cards that's fun and easy for kids of all ages. The concept is simple: each of the 55 cards in the deck feature eight symbols, and there is always exactly one matching symbol between any two cards in the deck. Your goal is to be the quickest to find the match between two cards.
Gears!Gears!Gears!

Photo and description courtesy of Learning Resources.
Taking apart and rebuilding things encourages a real understanding of how things work. Gears! Gears! Gears!® building sets feature optional building ideas while also fostering creative, open-ended play.
Other toys:
Color Code
Math Dice, Math Dice Jr.
Rory's Story Cubes
Amaze
Color Blocks and 1" Cubes
Bejeweled Board Game
Tetris Bop It
Parquetry Blocks
Attribute Blocks
Make N Break Game
Jigsaw Puzzles
Card Games (Old Maid, Go Fish, etc.)
Dominoes
ThinkFun Bug Trails
Checkers
Chinese Checkers
Perplexus
Qwirkle
Battleship
Labyrinth
Blokus
Connect Four
Rush Hour/Rush Hour Jr.
Regatta
Perfection
Tactilo
Bingo
Memory Games
Chicken Cha Cha Cha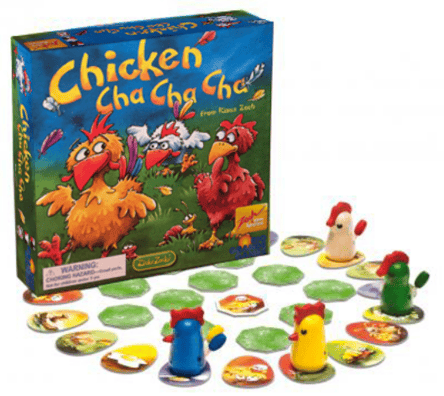 Chicken Cha Cha Cha is a fun and fast twist on the memory game. The players' chickens move around the barnyard when the correct facedown tiles are chosen. If your chicken leaps over another player's chicken, it gets to steal its tail feather. When one player collects all the different tail feathers, they win!
Other toys:
Simon Flash
Bop It
Hyperdash
Blink
Set
Loopz
Racko
Sort it Out
Tangrams/Tangoes
Mancala
Q-bitz
Rubik's Cube
Balance and Coordination Toys and Games
Develop gross motor skills, laterality and bilateral coordination.
Snowboard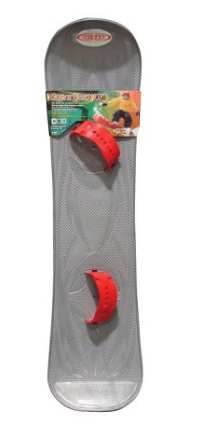 Photo courtesy of Target.com.
Other toys:
Hoppity Hop
Jump Ropes
Sit and Spin
Slip 'n Slide
Stilts
Twister
Heads Up
Special thanks to all the toy companies who contributed product descriptions to this post. Happy holidays!