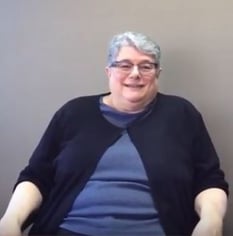 Nancy Kaplan was in the hospital recovering from endocarditis, a heart infection, when she suffered a stroke.
It left her with speech and mobility deficits. But for Nancy, the stroke's impact on her vision was by far the most serious problem.
"My left eye was at first completely closed, and then it became partially open. And I had double vision because the left eye itself wouldn't move very far," says Nancy.
Because she couldn't drive with double vision, the condition left her dependent on her husband to take her everywhere, including her numerous doctors' visits.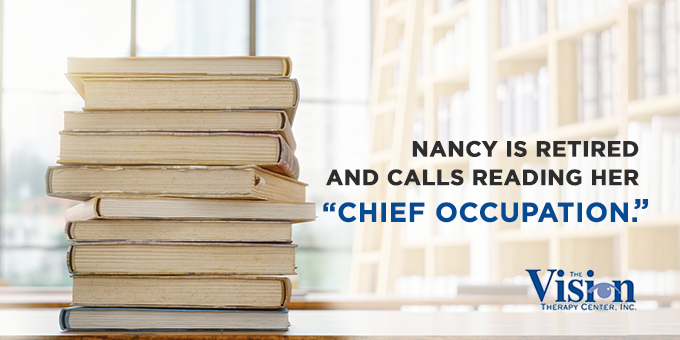 She also couldn't read very well, which was especially troublesome. Nancy is retired and calls reading her "chief occupation."
Following her stroke, Nancy underwent speech therapy, physical therapy, and occupational therapy.
But her vision problem was largely left unaddressed. "They really didn't have a good strategy for helping me with my vision problem." Almost two months into her various therapy courses, Nancy says one of her therapists suggested contacting The Vision Therapy Center.
Diagnosing Nancy's Vision Problems and Initiating Vision Therapy
Nancy underwent a Functional Vision Exam at The Vision Therapy Center. According to Dr. Heather Motisi, at Nancy's exam her left eye was constantly turned out (exotropia) and turned down (hypotropia). Her left upper eyelid was drooping significantly as well (ptosis).
Due to the severity of Nancy's condition, Dr. Motisi says, "I was quite guarded in my prognosis for a complete cure."
Although she estimated that 36 weeks of vision therapy may be needed, Dr. Motisi began Nancy with 12 trial sessions in the event that no progress was being made.
Vision therapy is a series of activities and exercises designed to retrain the visual system.
"Astounding" Progress Thanks to Vision Therapy and Nancy's Persistence
Dr. Motisi happily recalls that after just five weeks of in-office therapy, Nancy could successfully complete vision exercises requiring significant binocular skill – a sign of real progress.
By the time Nancy had her first progress exam after 12 weeks, she was experiencing very little double vision.
"I told her then, and told her time and time again, that her progress was just astounding," says Dr. Motisi.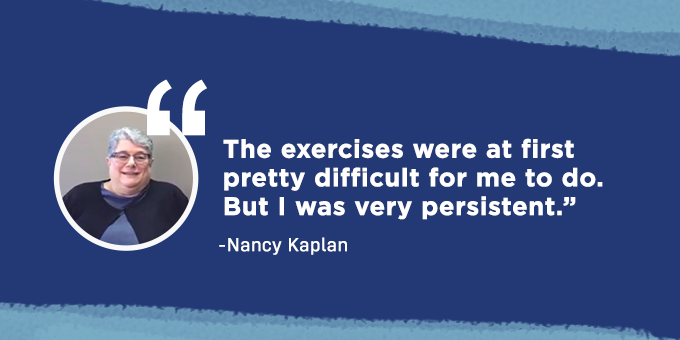 "The exercises were at first pretty difficult for me to do. But I was very persistent," Nancy says.
Although there were challenges over the course of Nancy's therapy, such as surgery for a cataract removal, Dr. Motisi says, "She did so much better than I could have imagined."
"I Recovered My Life"
Ultimately, Nancy completed nine months of weekly in-office sessions at The Vision Therapy Center, which was 40 minutes away.
"It was worth every minute of every trip and every minute I spent doing the exercises at home, because, as my vision improved, I could read," says Nancy. "I could drive. I could get my cataract removed, get new glasses. I recovered my life."
Nancy continues to have mobility disabilities and problems with her right hand. "But at least I see clearly, and I only see one person at a time!" she says.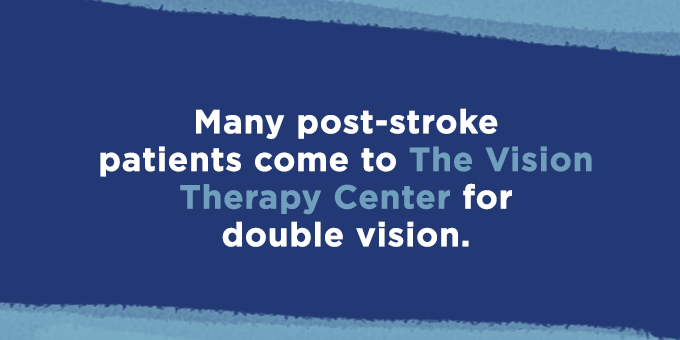 Many post-stroke patients come to The Vision Therapy Center for double vision.
Dr. Motisi says Nancy's hard work and determination had a lot to do with her exceptional progress. But she suggests there was another key factor.
"I believe seeing Nancy so soon after her stroke also played an important role in the success of her vision therapy."
In fact, that's a crucial reason why anyone with post-stroke vision problems should seek vision therapy with a developmental optometrist as soon as possible.

Nancy's Vision Problems: A Clinical Overview
In this section, we share details of Nancy's diagnosis and clinical progress for fellow optometrists and medical practitioners.
Initial Diagnosis
Left Exotropia
Left Hypotropia
Diplopia
Irregular Pursuits and Saccades
Dry Eye Syndrome
Aided Visual Acuity
We never took unaided on her as she wears her SRx full-time.
| | | |
| --- | --- | --- |
| Pre-Vision Therapy | FAR | NEAR |
| OD | 20/25 | 20/40 |
| OS | 20/50 | 20/60 |
| | | |
| --- | --- | --- |
| Post-Vision Therapy | FAR | NEAR |
| OD | 20/20 | 20/20 |
| OS | 20/25 | 20/20 |
Near Point Convergence
| | |
| --- | --- |
| Pre-Vision Therapy | |
| NPC | Constant LXT |
| After 5x | Constant LXT |
| With red lens | Constant LXT |
Nancy could not converge at her initial exam due to her constant left exotropia; she had diplopia at all distances.
| | |
| --- | --- |
| Post-Vision Therapy | |
| NPC | 1"/3" |
| After 5x | 1"/3" |
| With red lens | 3"/7" |
Step Vergence Ranges
| | | |
| --- | --- | --- |
| Pre-Vision Therapy | | |
| | FAR | NEAR |
| BI | Unable to test | Unable to test |
| BO | Unable to test | Unable to test |
Nancy had diplopia at all distances and was unable to fuse in order to measure vergences.
| | | |
| --- | --- | --- |
| Post-Vision Therapy | | |
| FAR | FAR | NEAR |
| BI | 8/6 | 16/10 |
| BO | 20/14 | 30/18 |
Accommodative Amplitudes
Pre-Vision Therapy

(Pull-Away)

OD

Not tested

OS

Not tested
Post-Vision Therapy

(Minus Lens)

OD

Not tested

OS

Not tested
Nancy was a presbyope and needed reading glasses to see at near. I did not do any accommodative testing on her.
Take the Vision Quiz: The First Step Toward Detecting a Problem
If you think you or your child may be suffering from a functional vision problem, the first step toward a diagnosis is to take the Vision Quiz. It can help you identify if you're suffering from any of the symptoms associated with a functional vision problem.