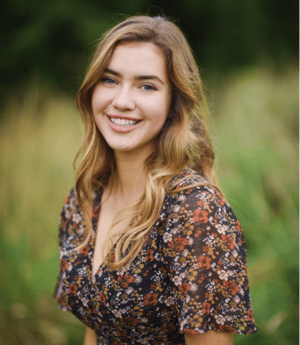 When Mary Stern was a high school sophomore, her vision problems became overwhelming.
"I was having trouble reading the board," Mary recalls. "I was having trouble focusing on novels I'd have to read for school." And to make matters worse, Mary says she also had "a lot of pain" in her eyes.
Although she wore contacts, they didn't seem to be helping with her vision problems.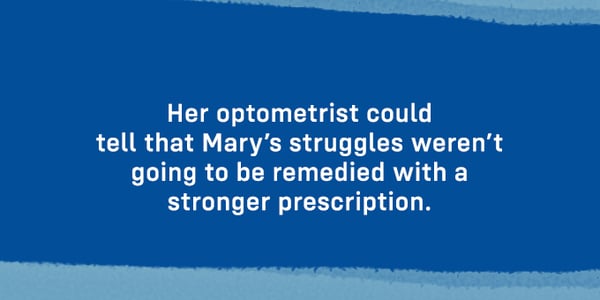 Eventually her optometrist could tell that Mary's struggles weren't going to be remedied with a stronger prescription. That's when she referred Mary to The Vision Therapy Center.
Diagnosing Mary's Vision Problems and Initiating Optometric Vision Therapy
According to The Vision Therapy Center's Dr. Heather Motisi, Mary's initial Functional Vision Exam revealed Mary had the following problems:
Accommodation issues. The technical term for focusing of the eyes is called accommodation. In healthy accommodation, tiny muscles inside your eye effectively control the eye lens to help you focus from near to distant objects (or vice versa).
Basically, focusing on something close engages the muscles, and looking at something in the distance makes them relax. For people with accommodation problems, such as Mary, it's not that easy.
Convergence insufficiency. Convergence is the coordinated inward turning of the eyes. This skill is critical for our eyes to focus on close objects, like books, papers and computer screens.
If your eyes don't converge efficiently, it can adversely affect your ability to concentrate on otherwise simple tasks. More specifically, it can cause symptoms that include eye strain and discomfort when reading and concentrating – exactly what Mary was experiencing.
Irregular saccades. Saccades is a visual skill that enables a person to make quick eye movements from one object to another. When watching a tennis match, for example, saccadic movements allow you to follow the ball from one player to the other. Irregular saccades makes that more challenging.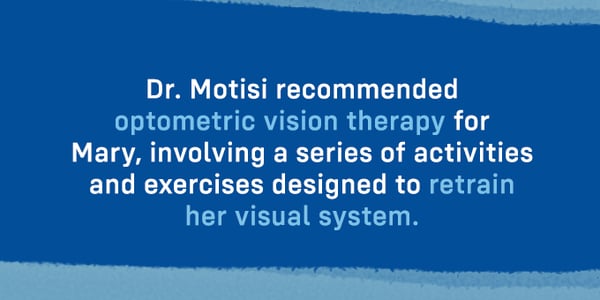 Dr. Motisi recommended 30 weeks of in-office optometric vision therapy for Mary, which involved a series of activities and exercises designed to retrain her visual system.
Mary's Initial Resistance to Vision Therapy Turns Into "Joy"
By the time Mary began optometric vision therapy, she was a busy high school junior in the midst of taking difficult classes, preparing for the ACT, and starting to look at colleges.
And she was also upset.
"I was really mad at myself for having this issue. I was mad that I would have to come here every week. I just thought it was really unfair," Mary recalls.
On top of that, Mary was skeptical of how the vision therapy exercises would help her. They not only seemed "weird" to her, they also caused her discomfort doing them.
Dr. Motisi says, "I knew she needed to see changes quickly, otherwise she was not going to follow through with the program."
Dr. Motisi was also aware that Mary's packed schedule would make it hard for her to do all of the home exercises that were part of her vision therapy. "That's why it was imperative we really make good use of her in-office time," she says.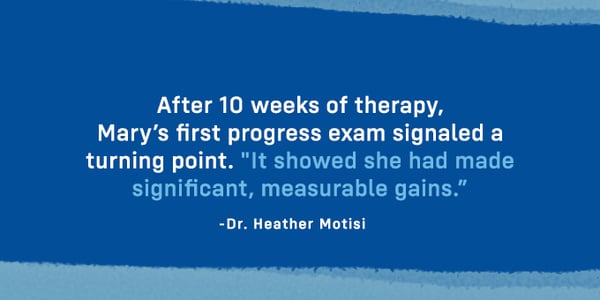 After 10 weeks of therapy, Mary's first progress exam signaled a turning point, recalls Dr. Motisi. "It showed she had made significant, measurable gains."
Mary's attitude also changed as she began to trust Dr. Motisi and the therapy exercises themselves.
"I began to find joy in coming here and joy in feeling better and joy in not having this discomfort anymore," Mary says.
"It Was Worth It"
Today, Mary says she feels "so fortunate" for the help she received from The Vision Therapy Center.
"I had such a bad focusing system when I first came here. And I was having real pain, real discomfort. And now I'm not. And the nine months were challenging, and I did have to sacrifice a lot. But it was worth it," says Mary.
"Mary made huge strides not just in her therapy," says Dr. Motisi, "but also as a person. She was so rigid and skeptical in the beginning. As she started to see the changes she was making from believing in the program, she became more confident and relaxed."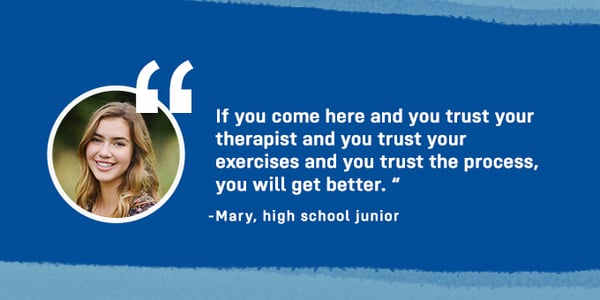 For anyone undergoing optometric vision therapy, Mary has some words of advice and encouragement: "If you come here and you trust your therapist and you trust your exercises and you trust the process, you will get better. The exercises work and the therapists know what they're doing. But only you have the power to actually get better yourself."
Mary's Vision Problems: A Clinical Overview
In this section, we share details of Mary's diagnosis and clinical progress for fellow optometrists and medical practitioners.
Initial Diagnosis
Accommodation issues
Convergence insufficiency
Irregular saccades
Aided Visual Acuity
Mary wears contact lenses full-time, unaided acuities were not checked.
| | | |
| --- | --- | --- |
| Pre-Vision Therapy | FAR | NEAR |
| OD | 20/20-2 | 20/30+3 |
| OS | 20/20-3 | 20/30 |
| | | |
| --- | --- | --- |
| Post-Vision Therapy | FAR | NEAR |
| OD | 20/20 | 20/20 |
| OS | 20/20-1 | 20/20 |
Near Point Convergence
| | |
| --- | --- |
| Pre-Vision Therapy | |
| NPC | To nose |
| After 5x | 1"/5" |
| With red lens | 6"/14" |
| NPC of Comfort | 10"/14" |
We added NPC of comfort; this is huge with a lot of patients as their clinical findings may be within normal limits, but the ease with which they perform the testing is abnormal. Discomfort with functional vision testing is not normal.
| | |
| --- | --- |
| Post-Vision Therapy | |
| NPC | To nose |
| After 5x | To nose |
| With red lens | To nose |
| NPC of Comfort | To nose |
Step Vergence Ranges
| | | |
| --- | --- | --- |
| Pre-Vision Therapy | | |
| | FAR | NEAR |
| BI | 6/2 | 14/10 |
| BO | 6/1 | 18/6 |
| | | |
| --- | --- | --- |
| Post-Vision Therapy | | |
| FAR | FAR | NEAR |
| BI | 12/8 | 16/22/8 |
| BO | 24/40/18 | >40/24 |
Accommodative Amplitudes
Pre-Vision Therapy

(Pull-Away)

OD

4.00 D

OS

4.75 D
Post-Vision Therapy

(Minus Lens)

OD

13.25 D

OS

14.25 D
Take the Vision Quiz: The First Step Toward Detecting a Problem
If you think you or your child may be suffering from a functional vision problem, the first step toward a diagnosis is to take the Vision Quiz. It can help you identify if you're suffering from any of the symptoms associated with a functional vision problem.