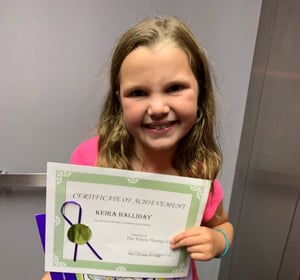 While on a car ride, seven-year-old Keira Halliday tried to read a stop sign. "It's blurry," she said to her mother, Amy.
That got Amy and her husband, J.J., not only paying closer attention to Keira's reading performance but also some of the classroom challenges Keira's teacher had reported.
"I wouldn't say she had major reading problems," J.J. recalls. "It was more like she wasn't keeping pace in her reading with classmates. It was just more challenging for her."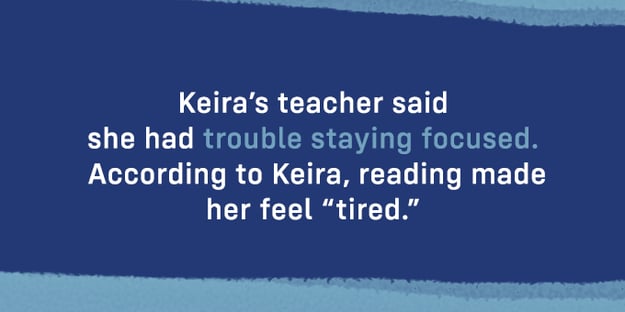 Keira's teacher said she had trouble staying focused. According to Keira, reading made her feel "tired."
Amy and J.J. wondered if their daughter's problem focusing had to do with her vision.
So, they took her to their family eye doctor. Keira had trouble reading entire lines of letters on the eye chart. However, she could read a single letter when displayed in isolation, explains Amy.
The Halliday's eye doctor, Dr. Saly Tran of Brookfield Vision Center, suspected there could be a functional vision problem at play. Dr. Tran recommended that Amy and J.J. make an appointment for Keira at the The Vision Therapy Center.
An Explanation for Keira's Struggles
Keira underwent a Functional Vision Exam. It indicated she had convergence insufficiency, a functional vision problem not easily detected by typical vision screenings.
Convergence is the coordinated inward turning of the eyes. It's critical for our eyes to focus on close objects, like books, papers and computer screens.
If your eyes don't converge efficiently, it can take a serious toll on your ability to concentrate on otherwise simple tasks. More specifically, it can cause symptoms that include eye strain, difficulty reading and concentrating, and avoidance of near work.
Based on the advice of Dr. Begotka at The Vision Therapy Center, the Hallidays decided to pursue vision therapy for Keira.
It included 36 weeks of daily activities and exercises designed to retrain the visual system, including a weekly in-office visit working with staff at The Vision Therapy Center.
The Hard Work of Vision Therapy Begins to Pay Off
J.J. says Keira was initially resistant to vision therapy. But he says they managed to get over that hurdle by making it clear to her that vision therapy was ultimately something that was going to help her see better, read more comfortably, and enjoy school more.
"It was not fun," recalls Keira. "I kept asking, 'When will I be done?' My sister was watching TV, and I had to do vision therapy!"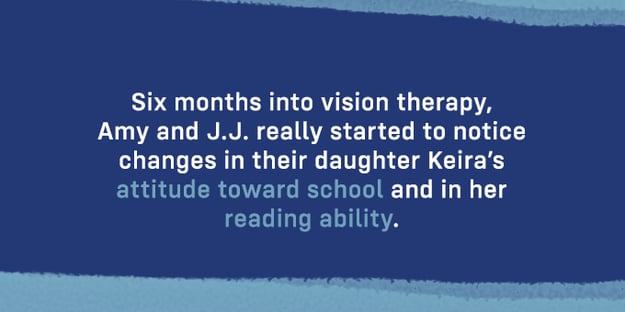 But gradually, says J.J., the results of the hard work started to show.
About six months in, he and his wife really started to notice changes in Keira's attitude toward school and in her reading ability.
And so did Keira. "I could read that sign!" she remembers. In fact, she noted a mistake her sister made when reading the sign and corrected her with an emphatic "That's a P!"
"I'll Read This Page!"
The results of vision therapy for Keira went way beyond seeing a sign more clearly. Today, Keira says reading is easier and adds, "I can read faster." And perhaps just as important, Keira now calls reading "fun."
"Before, it was mommy and daddy having to read to her," J.J. says. "But thanks to vision therapy, there are now a lot more, 'I'll read this page!'"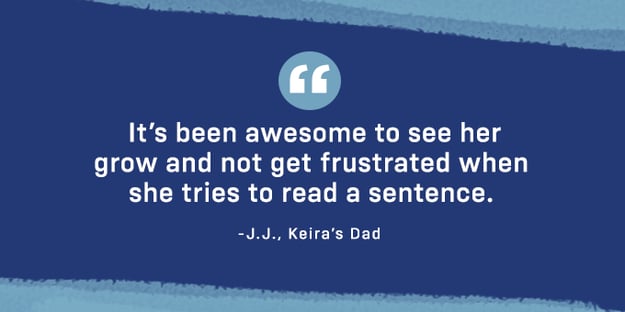 "It's been awesome to see her grow and not get frustrated when she tries to read a sentence," says J.J. "And she's not getting so tired and distracted at school because now she doesn't have to work so hard focusing on words."
The positive changes in Keira reach beyond schoolwork. Keira says she's enjoying activities like dance and gymnastics even more since vision therapy.
As for Amy and J.J., they're now huge promoters of vision therapy.
"We're making sure we share Keira's story with teachers and other parents," says J.J. "We want people to be aware of how functional vision problems can affect children—and how they can be corrected."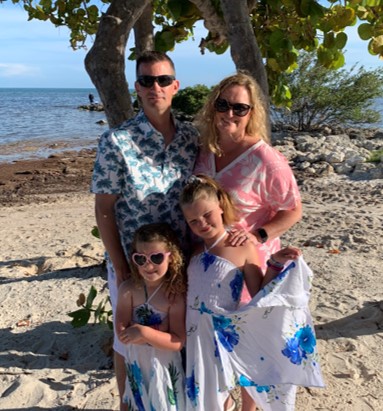 The Hallidays
Keira's Convergence Insufficiency Problem: A Clinical Overview
In this section, we share details of Keira's diagnosis and clinical progress for fellow optometrists and medical practitioners.
Initial Diagnosis
Convergence Insufficiency
Unaided Visual Acuity
| | | |
| --- | --- | --- |
| Pre-Vision Therapy | FAR | NEAR |
| OD | 20/30 | 20/30 |
| OS | 20/30 | 20/30 |
| | | |
| --- | --- | --- |
| Post-Vision Therapy | FAR | NEAR |
| OD | 20/20 | 20/20 |
| OS | 20/20 | 20/20 |


Near Point Convergence
| | |
| --- | --- |
| Pre-Vision Therapy | |
| NPC | 3"/6" |
| After 5x | 2"/6" |
| With red lens | 4"/12" |
| | |
| --- | --- |
| Post-Vision Therapy | |
| NPC | TN |
| After 5x | TN |
| With red lens | 2"/4" |
Step Vergence Ranges
| | | |
| --- | --- | --- |
| Pre-Vision Therapy | | |
| | FAR | NEAR |
| BI | 12/10 | 8/6 |
| BO | 12/10 | 16/4 |
| | | |
| --- | --- | --- |
| Post-Vision Therapy | | |
| FAR | FAR | NEAR |
| BI | 10/2 | 16/10 |
| BO | 12/8 | 25/16 |
Accommodative Amplitudes
Pre-Vision Therapy
(Pull-Away)

OD

20 cm

OS

17 cm
Post-Vision Therapy
(Minus Lens)

OD

11.75

OS

11.75
Take the Vision Quiz: The First Step Toward Detecting a Problem
If you think you or your child may be suffering from a functional vision problem, the first step toward a diagnosis is to take the Vision Quiz. It can help you identify if you're suffering from any of the symptoms associated with a functional vision problem.