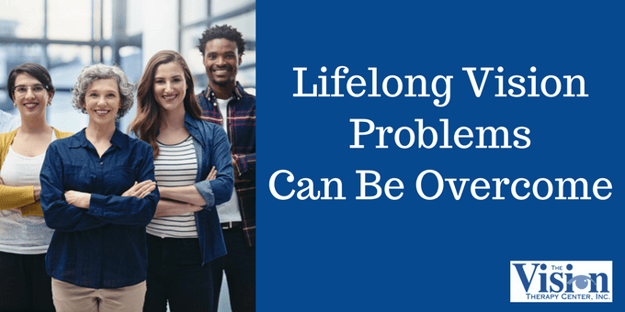 It's common for us to see adult patients like Barbara Federlin, who have suffered through a lifetime of vision problems and are at wit's end. Her story, and her success, is an inspiring message to all that it's never too late to overcome a functional vision problem.
If you watch the success story video below of Barbara Federlin, you'll find a confident, happy woman, at ease with the world around her. According to Dr. Heather Motisi, the developmental optometrist who helped guide her therapy, this is a drastically different woman than the one who visited us for her initial exam.
"When we started, she [Barbara] was high stress, high anxiety, afraid to give up control and tearful," Dr. Motisi recalls.
It's no wonder. She had suffered from a functional vision problem her entire life, and a recent fall and cataract surgery had pushed her over the edge.
Watch Barbara's Success Story Video, and then read the rest of her story.
Throughout her life, Barbara had been suffering from an eye turn (constant alternating esotropia), which was affecting her binocular vision and affecting her eyes' ability to work as a team.
"She had known about her eye turn since she was little, but never had any intervention for it," Dr. Motisi explained. As a result, Barbara had experienced double vision in the past, but the symptoms had increased following her recent cataract surgery.
At some point after the surgery, the symptoms reached a tipping point after Barbara suffered a fall. She was experiencing nausea and vertigo, and a friend recommended she consider vision therapy. She contacted The Vision Therapy Center, and underwent a functional vision exam.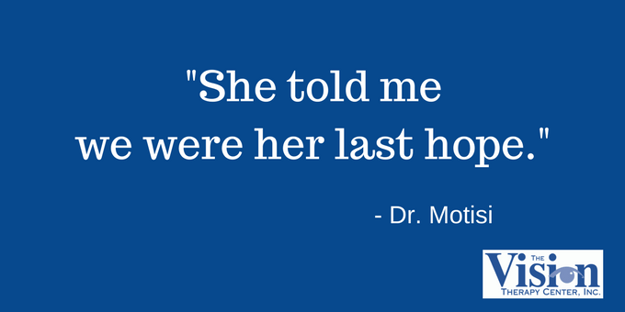 Dr. Motisi recalls that her initial exam was an emotional one: "She told me that we were her last hope."
A Whole New World Emerges as Vision Therapy Begins
Vision therapy involves a series of activities and exercises designed to help retrain the visual system to work correctly. During therapy, we commonly see some level of discomfort with patients as they work to correct their respective vision problem. This is because your body becomes accustomed to working in a certain way. Any change, even one for the better, will likely result in your system resisting your efforts.
As Barbara underwent therapy, she initially experienced more nausea and dizziness. However, she soon began to see positive effects resulting from her hard work.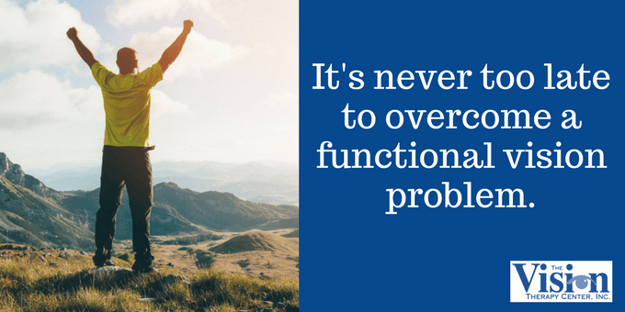 Her nausea and dizziness eventually went away. She began to see things differently as her depth perception improved. "The therapist talked about seeing space," Barbara said. "Trees looked different. Houses looked different. Everything took up more space."
Looking Back, Barbara Understands More About Herself
Functional vision problems affect every aspect of your life. From a very early age, they make you behave differently than other people. What's incredibly challenging for our patients is that they're unaware they even have a problem until they're diagnosed.
In the video above, Barbara noted that vision therapy helped her understand her early challenges. Dr. Motisi agreed. "She's been able to reflect on why she behaves the way she does because of her visual issues, and how they have shaped her into the person she has become."
The struggle, and the success, has been worthwhile. "It's never too late to make changes," Dr. Motisi said. "Barbara is genuinely a happier person, and it's really rewarding to see that her life is changing."
Take the Vision Quiz: The First Step Toward Detecting a Problem
If you think you or your child may be suffering from a functional vision problem, the first step toward diagnosis is to take the Vision Quiz. It can help you identify if you're suffering from any of the symptoms associated with a functional vision problem.