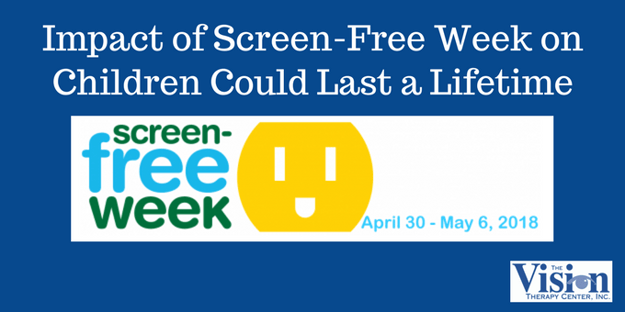 Excessive screen time poses a legitimate threat to a child's visual health, school performance, and overall behavior. That's why figuring out how to limit screen time is so important. Check out our 39 tips to make it happen as we promote Screen-Free Week 2018.

Screen-Free Week is a nationwide event that runs April 30 - May 6, 2018. We're encouraging children and adults to limit screen time and take a break from TVs, smartphones and tablets.
Screen-Free Week Not Just About Television
Screen-Free Week was originally "TV Turnoff Week," and was organized by the Campaign for Commercial-Free Childhood in 1995.
As research has proven throughout the years, too much TV can have a profound impact on learning and behavior. It's why organizations like the American Academy of Pediatrics, American Medical Association, the National Education Association, and Big Brothers/Big Sisters have supported TV Turnoff Week.
And while much of the original intent of TV Turnoff Week was to limit a child's exposure to commercials, the issue of screen time has become the real health threat.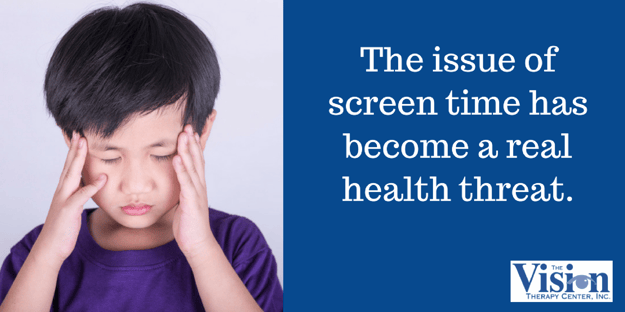 Why Limit Screen Time?
According to Screenfree.org, "Regardless of content, excessive screen time changes children's fundamental connection to the world. It deprives them of hands-on creative play—the foundation of learning, creativity, constructive problem solving, and the capacity to wrestle with life to make it meaningful."
Excessive Screen Time Puts Young Children at Risk...
Screenfree.org put together a well-researched document that illustrates the impact screen time has on young children and older children. The statistics we're citing in this post are all sourced in this document.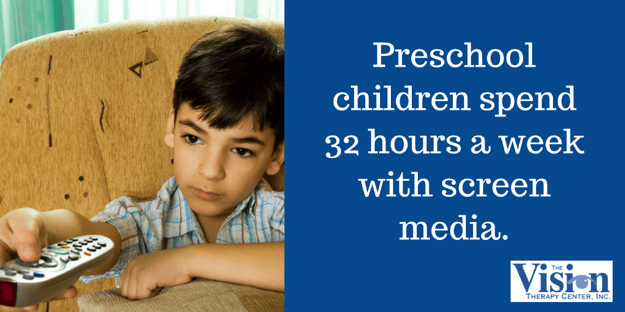 These statistics aren't encouraging. On average, preschool children spend 32 hours a week with screen media. Forty percent of 3-month-old infants are regular viewers of screen media, and 19% of babies 1 year and under have a TV in their bedroom.
What's the fallout from that amount of screen time?
Screen time for children under 3 is linked to irregular sleep patterns and delayed language acquisition.

The more time preschool children and babies spend with screens, the less time they spend interacting with their parents. Even when parents coview, they spend less time talking to their children than when they're engaged in other activities.

Toddler screen time is also associated with problems in later childhood, including lower math and school achievement, reduced physical activity, victimization by classmates, and increased BMI.

Direct exposure to TV and overall household viewing are associated with increased early childhood aggression.

The more time preschool children spend with screens, the less time they spend engaged in creative play – the foundation of learning,constructive problem solving, and creativity.

Screen time can be habit-forming: the more time children engage with screens, the harder time they have turning them off as older children.
...and School-Age Children, Too.
The numbers don't get any better as children get older and start using electronic devices even more. Including multitasking, children ages 8-18 spend an average of 4 ½ hours per day watching television, 1 ½ hours using computers, and more than an hour playing video games.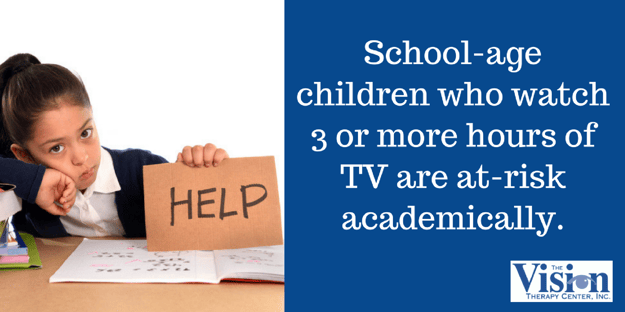 The fallout from the excessive screen time for school-age children is significant:
Time spent with screens is associated with childhood obesity, sleep disturbances and attention span issues.

Children with 2 or more hours of daily screen time are more likely to have increased psychological difficulties, including hyperactivity, emotional and conduct problems, as well as difficulties with peers.

Adolescents who watch 3 or more hours of television daily are at especially high risk for poor homework completion, negative attitudes toward school, poor grades, and long-term academic failure.

Adolescents with a television in their bedroom spend more time watching TV and report less physical activity, less healthy dietary habits, worse school performance, and fewer family meals.

Children with a television in their bedroom are more likely to be overweight. Especially high rates of bedroom televisions (70-74%) have been seen among racial/ethnic minority children aged 2 to 13 years.
Excessive Screen Time Can Also Lead to Computer Vision Syndrome
Screenfree.org has provided tremendous research on the impact on screen time. You should also be aware that a condition called "Computer Vision Syndrome" can also result in both children and adults. (Which is why you should participate in Screen-Free Week!)
The American Optometric Association (AOA) defines Computer Vision Syndrome (CVS) as "a group of eye and vision-related problems that result from prolonged computer, tablet, e-reader and cell phone use." After prolonged use a number of symptoms can result, including:
Eyestrain

Headaches

Blurred vision

Dry eyes

Neck and shoulder pain
The AOA cites, "at greatest risk for developing CVS or Digital Eye Strain are those persons who spend two or more continuous hours at a computer or using a digital screen device every day."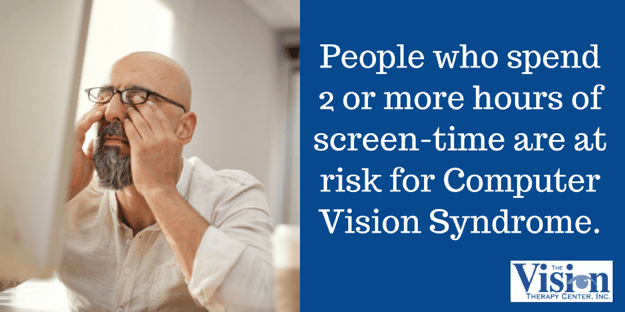 Computer Vision Syndrome can impact your functional vision system, which is why we provide these guidelines for proper usage of computers and smartphones in respect to your visual system.
Ok - I'm In! Now What?
We've provided you with solid research on the dangers of excessive screen time for kids. You realize the threat, and you're ready to take action. But what in the world will you and your children do for an entire week? And more importantly, how can you keep it going after the week is over?
Here are some ideas for what your organization can do to participate in Screen-Free Week, as well as on a personal level.
Ideas for Limiting Screen Time: From Short-term to Long-term
Ok, we understand quitting cold turkey is going to be very hard for a lot of people. But here are some ways to get the ball rolling and limit your screen time for the week.
Read books, books and more books

Visit the library or your local bookstore

Eat screen-free meals together and talk

Play word games

Tell stories

Draw pictures and tell stories about them

Encourage young children to dictate stories

Read poems out loud

Make up poems and rhymes

Make up songs

Karaoke

Host a neighborhood dinner

Go hiking

Do some arts and crafts

Create a scavenger hunt

Play board games

Build a fort

Go fly a kite (literally)

Listen to music

Play musical instruments

Call a relative - those phones can be used to talk, too!

Volunteer for service work in your community

Walk a pet - your own or someone else's

Start a part-time business (mowing lawns, walking dogs)

Create a comic book

Take a drawing class

Go bowling

Play your favorite sport

Organize a week-long tournament (ping-pong, volleyball, you name it)

Put on a play - get the neighborhood kids together and write a play!

Go to a play or a dance performance

Pick up litter around your neighborhood

Visit a senior for a few hours (read to them, talk to them)

Help someone younger with their homework

Create an obstacle course in the backyard

Organize a block party - with fun kids' games

Tour your state capitol (if you're close)

Go to a museum or art gallery

Take a painting class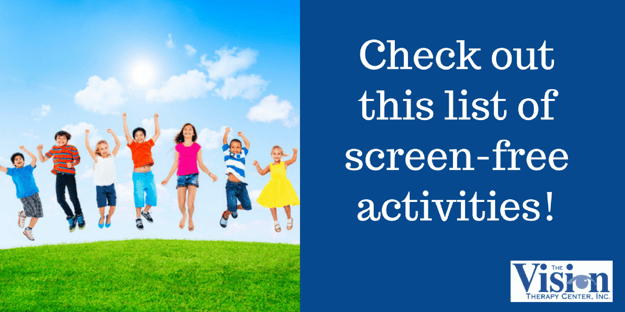 Here are also some great resources from Screenfree.org:
7 parent-tested tips to unplug and play
Family guide to a great screen-free week
Working with schools to reduce screen time
A huge list of screen-free activities!
Get In on the Action: What Your Organization Can Do to Limit Screen Time
This year, The Vision Therapy Center is encouraging our patients and staff to take the "Screen-Free for a Week" pledge. We are gathering names at our front desk, and providing handouts to everyone on alternative activities.
Schools and libraries are also getting in on the fun in a big way. Here are some great examples of what's happening across the nation.
How to Limit Screen Time for Kids and Adults Over the Long Haul
We love all these ideas for the week. But how do you keep this going when the seven days are done? Here are a couple of suggestions for kids and adults, too!
Start small
Metro Parent encourages people not to bite off more than they can chew. We all are reliant on these devices, but maybe start with cutting off screen time after 7 pm, or "Make a family policy that after dinner all the screens are unplugged." @metroparent
Keep those screens in view
GreatSchools recommends that you keep TVs and devices in the common areas. "Keeping screen time at bay isn't all about how much a child watches, but where," they point out, noting that kids with TVs in their room watch about nine hours of week of extra TV time. @greatschools
Turn on "Do Not Disturb" setting during designated times
Most smartphones have a "Do Not Disturb" setting. Enable it during mealtimes or when outdoors. A great tip from Apartment Therapy. @apartmenttherapy
Negotiate a balance between offline and online time
One of our favorite tactics is to "negotiate" (and we use that term loosely for parents) a balance. For every hour playing video games, they must spend an hour either outside, reading, or pursuing one of the other 40 items we've listed above.
Help them find other ways to have fun
You can structure non-screen time just as easily as you can a kid's sporting event or other extracurricular activity. Besides setting some of the ground rules for screen time limits, make sure they have plenty of alternatives on hand.
"Keep other options -- supplies, books, frisbees, and bikes -- around and ready when your kids claim there's nothing else to do," says WebMD. @webmd
Find ways to be more productive
Screen time is really a lot of unproductive time. Some top bloggers shared some ideas on how to turn that around.
Michelle Schroeder-Garden lists a number of long-term ideas, such as learning more about finances, learning how to cook (kids too!), and becoming a Big Brother / Big Sister. @senseofcents
Adding to the productivity list is Steve "SJ" Scott of Develop Good Habits, who also produced this catch-all graphic of great alternatives. @habitsguy
The Biggest Reason Why You Should Try Screen-Free Week
Look, we know this won't be easy. Many of us at The Vision Therapy Center have children of our own. We know how much screen time is enmeshed in our cultural fiber. But here is perhaps the biggest compelling reason you should do this.
Your kids don't know any other way.
The generation of children now growing up have been raised in a world of multiple screens and electronic devices. It has become so ubiquitous that many of them simply can't imagine a world without screens.
And that's sad. Because they might not know the joy of a long, screen-free walk in the woods. Or the thrill of becoming immersed in a book. Or what kind of worlds they can create when they let their imagination run wild.
Your kids will thank you when the week is done. In fact, they just might find that a screen-free world isn't so bad after all!