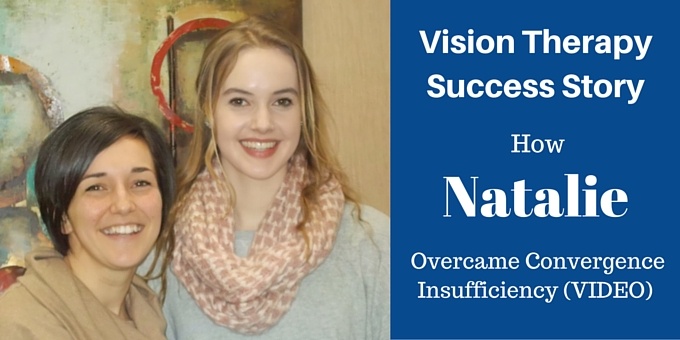 Natalie Anderson loved to play music - except there was one problem. The written music kept jumping around on the page. It was just one symptom of her functional vision problem, and it led her to The Vision Therapy Center.
In this post, we'll provide you with:
Natalie's Vision Therapy success story

A video in which Natalie and her mother Deborah describe their experience

Clinical results showing Natalie's improvement
Natalie Anderson, now 17, had always struggled to stay focused on schoolwork. Natalie is homeschooled and Deborah, her mother and her teacher, watched her struggles, particularly with reading, get worse and worse.
"It got to the point where she lost interest in reading, and would only do what was required," she said.
After watching the video, please read the rest of this post!
Moving Music: A Breaking Point
Deborah knew it wasn't ADHD, but she couldn't put her finger on the problem.
Natalie plays in an orchestra. One day, she complained to her mom that the "music was moving around on the page." Deborah knew something was wrong. But she didn't know what to do about it.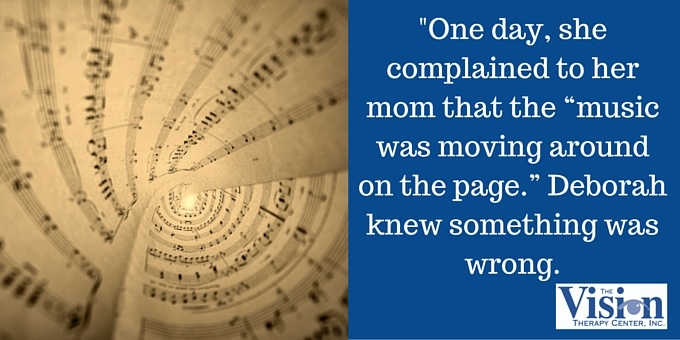 A friend mentioned vision therapy, and Mom took Natalie in for testing. They discovered that she was unable to look up and look down and find her place while reading. She was diagnosed with convergence insufficiency.
Diagnosis: Convergence Insufficiency
Natalie was diagnosed with convergence insufficiency, a functional vision problem which isn't detected by typical vision screenings.
From infancy on, our brain and eyes learn and develop visual skills including convergence, the coordinated movement and focus of both of our eyes inward. Convergence is critical for our eyes to focus on close objects such as books, papers and computer screens.
Someone who has poorly developed convergence, like Natalie, may experience the following symptoms, as we detail in this blog post:
Eye strain

Headaches

Double vision

Difficulty reading and concentrating

Avoidance of near work

Poor sports performance

Dizziness or motion sickness
The family decided to follow the advice of The Vision Therapy Center, and pursue vision therapy.
Vision Therapy Begins
Vision therapy uses a series of activities and exercises to retrain the visual system to work efficiently.
The family had to develop a new routine because of the 30 minutes the activities took each day. They set up a special area in the house where Natalie could spread out her vision therapy tools and a bulletin board to pin up activities.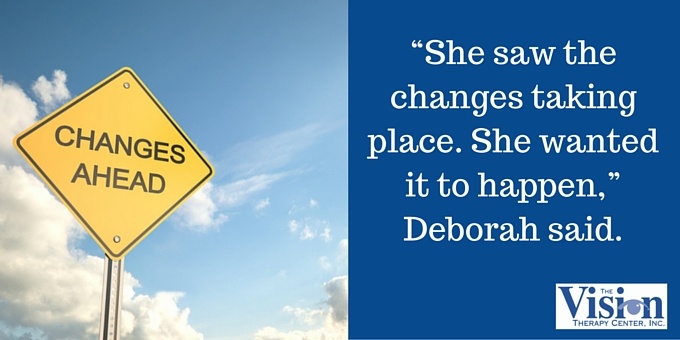 Because Natalie is 17, Deborah didn't have to help too much with the activities. Eventually, Natalie took full ownership. "She saw the changes taking place. She wanted it to happen," Deborah said.

Both mom and Natalie emphasized that vision therapy is hard work. In the video, Natalie recalls how she began to slump during Christmas time, as the work grew challenging and she wasn't seeing progress. But she stuck with it, and soon, the results came.
After Vision Therapy: How Life Improves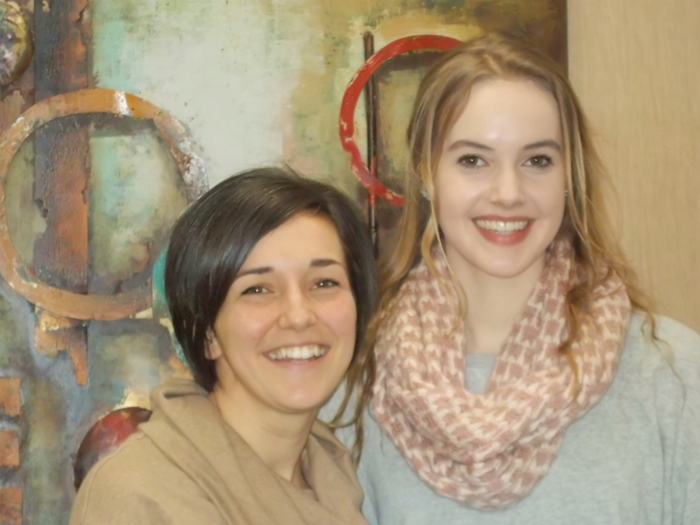 Natalie Anderson pictured with her vision therapist, Natali Sutermeister.
Natalie said learning and life in general became "so much easier." She could read and comprehend every word in each line of text. The grocery store was no longer overwhelming, she could focus on the pastor in her church, and she could finally read her music.
Deborah said her ability to focus and accomplish her work was incredible Natalie actually requested more work, and added a class to the curriculum. College, which once seemed unattainable, was now a realistic goal. "The possibilities have become endless," Deborah said.
Words of Advice for People Undergoing Vision Therapy
Deborah's mom compared vision therapy to playing an instrument - it requires practice. "That's the only way to make progress," she said. Other tips include:
Stay faithful to the schedule.

Natalie never missed a week, and The Vision Therapy Center was accommodating to her busy lifestyle.

Trust the system.

Do what you are asked to do, because the results truly come.

Don't take shortcuts.

There is a lot of hard work, but that's the only way to get results.
Deborah was complimentary of The Vision Therapy Center, and Natalie agreed she would definitely recommend the program for people with a functional vision problem.
Natalie's Functional Vision Problem - A Clinical Overview
In this section, we share some of Natalie's diagnosis and clinical progress for fellow optometrists and medical practitioners.
Initial Diagnoses
Convergence Insufficiency
Accommodative Insufficiency
Anisometropia (Low Myopia OD, Low Hyperopia OS)
Visual Acuity
| | | |
| --- | --- | --- |
| Unaided | FAR | NEAR |
| OD | 20/25 | 20/20 |
| OS | 20/20 | 20/20 |
Near Point of Convergence
| | |
| --- | --- |
| Pre-Vision Therapy | |
| NPC | 1"/3" |
| After 5x | 1"/4" |
| With red lens | 2"/6" |
| | |
| --- | --- |
| Post-Vision Therapy | |
| NPC | TTN |
| After 5x | TTN |
| With red lens | TTN |
Vergence Ranges
| | | |
| --- | --- | --- |
| Pre-Vision Therapy | FAR | NEAR |
| BI | x/10/0 | x/24/18 |
| BO | x/8/0 | x/12/0 |
| | | |
| --- | --- | --- |
| Post-Vision Therapy | FAR | NEAR |
| BI | x/16/6 | x/16/14 |
| BO | x/26/6 | x/20/18 |
Accommodative Amplitudes
| | |
| --- | --- |
| Pre-Vision Therapy | |
| OD | 6.00 |
| OS | 5.75 |
| | |
| --- | --- |
| Post-Vision Therapy | |
| OD | 12.00 |
| OS | 12.25 |
Post-Vision Therapy Functional Improvement
Natalie noted that reading speed and ability has increased tremendously. She is able to copy from separate pages or from the board with ease.
Take the Vision Quiz: The First Step Toward Detecting a Problem
If you think you or your child may be suffering from a functional vision problem, the first step toward diagnosis is to take The Vision Quiz. It can help you identify if you're suffering from any of the symptoms associated with a functional vision problem.