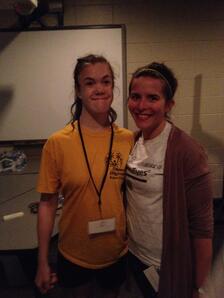 The Vision Therapy Center's recent volunteer efforts at another Wisconsin Special Olympics games highlights the importance of detecting vision problems among people with special needs. Here are five facts about how this population is affected by functional vision problems.
The Vision Therapy Center and its team of volunteers was at the Special Olympics State Summer Games in Stevens Point June 6 and 7. Nearly 2,000 athletes competed in the games, and through the Special Olympics Lions Club International Opening Eyes program, we screened over 300 athletes and prescribed over 200 pairs of glasses and sports goggles.

The Special Olympics-Lions Clubs International Opening Eyes program is a vision and eye health screening in partnership with the Lions Clubs International Foundation. It's designed to provide quality eye care for people with developmental disabilities, and particularly for those who are involved in Special Olympics as athletes.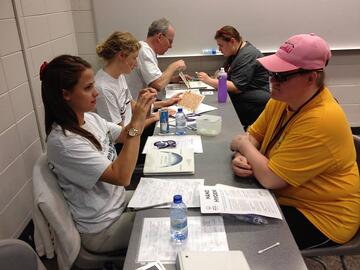 Opening Eyes provides free vision and eye health assessments, prescription eyewear, sunglasses and sports goggles to people with intellectual disabilities around the world.

During this year's Special Olympics State Summer Games, eye care professionals and volunteers from groups like The Vision Therapy Center provided this service for participating athletes. Special thanks also to sponsor Safilo, who provided the frames and lenses.

This was the 14th year and the 26th Opening Eyes program in which The Vision Therapy Center has participated, and we have helped assess 6,000 athletes.

Here are four reasons why this program is so important for people with special needs:

1. People with developmental disabilities have a greater need for vision screening. In general, people with developmental disabilities have a higher incidence of vision problems, and they also tend to have poorer access to health care. According to the Special Olympics International, "Opening Eyes screenings have found that 28% of athletes worldwide need new prescription glasses and 23% have never had an eye exam."

A developmental disability can also affect a person's visual system, which includes the eyes, the brain and visual pathways. Whether vision issues are overlooked or because of their current care situation, these individuals simply don't receive the types of functional vision screening they need to ensure their visual system is working correctly.

2. Vision screening may need to be tailored to non-verbal patients. If a person with special needs is non-verbal, it is sometimes incorrectly assumed that their lack of verbal response will adversely affect a screening. On the contrary, an optometrist can conduct most of the screening without any verbal responses, including the determination of a prescription.

3. Special prescriptions can be expensive. With these more expensive glasses come higher costs, which can be a big deterrent to some athletes. Since 2001, SOWI's Opening Eyes program has provided 6,210 vision assessments and 4,496 pairs of glasses and sport goggles in Wisconsin.

4. Performance in sports (and life) is heavily dependent on functional vision. This could be attributed to the population as a whole, but functional vision is especially critical in sporting events. Functional vision, which includes the ability to accurately perceive objects in visual space, can impact an athlete in a variety of ways:


The ability to see a ball flying through the air
The distance to a wall in swimming, or the finish line in a race
The position of an athlete's body in relation to teammates in a team sport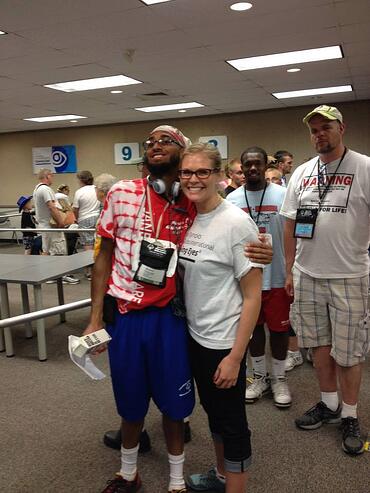 Functional vision's impact in sports is pivotal, and it also translates into everyday life. Judging the distance of a hot object, or walking down a flight of stairs, can be difficult with poor functional vision.

We're proud to have joined with eye care professionals, Lions Club volunteers, and other volunteers from around to state to make this program possible. Special thanks go out to our fellow optometrists for donating their time.
Here's a link to photos from the event on our Facebook page.