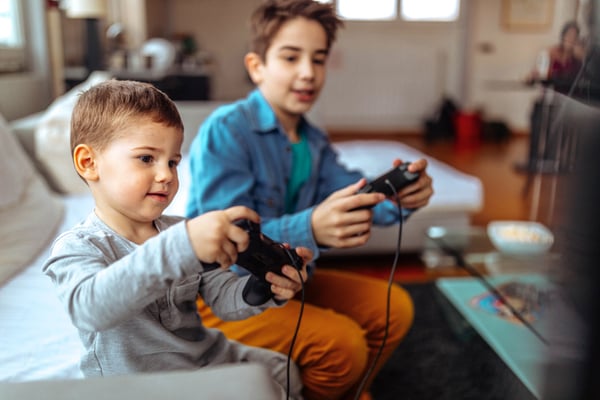 This isn't the first time we've blogged about video games being used to treat amblyopia or lazy eye, and it undoubtedly won't be the last. We're following a new study on how video games can be used to treat lazy eye. We like the potential of what this could deliver, but we're concerned using video games may fall short of what any amblyopia treatment must do: Restore binocular vision.Let's first take a look at the study. According an article that appeared in Gizmag, scientists from Nottingham are working with Sony Computer Entertainment Europe to adapt some PlayStation 3 titles as part of a treatment program for lazy eye.
The research project is called I-BiT, and it's testing treatment of lazy eye using video games and specially designed glasses.
The movement toward video games is hardly surprising. The most effective treatment, a combination of patching and vision therapy, can be time-consuming. The offer of a quick fix, especially one that involves gaming, should be an easy sell to any child with amblyopia.
Dr. Brandon Begotka of The Vision Therapy Center likes the idea. "It could potentially be a good thing," he said. "Sometimes it's hard to find exercises that are fun to do while patching."
Scientists involved with the program are reporting "a marked improvement that has been seen after only a few half-hour sessions."
That's terrific news, but it's a bit premature to declare this is the cure for amblyopia. "This program addresses the first stage of treatment, which is to improve the acuity in that eye," Dr. Begotka said. "But if we want to maintain that improvement, we need to address the poorly developed binocular skills that caused the amblyopia. We can do this with vision therapy."
Binocular Skills the Second Stage
Why do we think the gains reported by the Nottingham study may be short-term? To answer that question, you must realize that amblyopia is not simply a condition that affects one of your eyes. The performance of your entire visual system, including your brain and visual pathways, is also part of the picture.
It is true that amblyopia can develop when one eye sees more clearly than the other eye. This difference in eyesight is most commonly caused by strabismus (an eye turn) and/or anisometropia (large differences in vision/prescriptions between the two eyes).
Because the one eye does not see as clearly as the other, two different images are sent to the brain, which causes confusion. Your brain cannot combine the images into one coherent image, so it chooses the one that looks the best. It then shuts out the image being sent from the other eye.
When the brain uses one eye to process the majority of visual information, it impacts the brain's use of both eyes together, which affects depth perception, eye teaming, and a host of other important functional vision skills.
With video gaming, the scientists are undoubtedly restoring the acuity of that "lazy eye." For a short time, it will be able to see clearly. But this doesn't ensure that the brain will use the eyes equally.
"The key to treating amblyopia is to get the brain to do something different with that eye," said Dr. Begotka. "What happens when the video games aren't being played? Do we maintain those improvements, or do we regress?"
Developmental optometrists use vision therapy to help the brain start using the two eyes together. Through a series of activities and exercises, binocular vision can be restored.
Does this negate the potential of the study? Not at all. Besides providing yet another tool to help improve eye acuity, Dr. Begotka likes the fact that improvement in acuity can be accomplished without patching. "It's good that both eyes are being used at the same time, as that is the ultimate goal of amblyopia treatment," he said.
We'd love to see the study include a component of vision therapy. For now, we'll be keeping a close watch on the Nottingham study. "This is something that could be another tool," said Dr. Begotka. "But it's definitely not an all-inclusive cure."