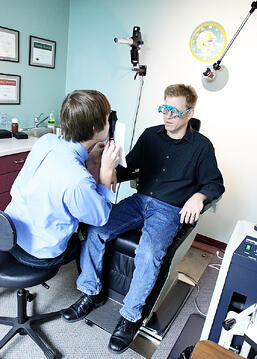 If you've been told that you or your child is too old to have amblyopia, or "lazy eye" corrected, someone has done you a true disservice.
For years, parents of older children diagnosed with amblyopia, or 'lazy eye', have been told the child is "too old" for the problem to be corrected. Yet we've helped older children and adults correct their lazy eye and enjoy improved vision.
So why are some parents being told otherwise?
The reason this misinformation continues is tied to a misinterpreted study and some long-held beliefs, neither of which will help you or your child.
(Note: At the end of this post, please check out our 2014 Updates for more information on How to Fix a Lazy Eye.)
What is the source of the misinformation about amblyopia?
In her book Fixing My Gaze, neuroscientist Sue Barry relates how the misconception in the scientific and medical communities began.
She writes that since the mid-1990s, the "scientific and medical communities have cited strabismus and a related disorder called amblyopia as classic examples of developmental disorders that cause permanent changes in vision if they are not corrected within a critical period in early life."
The conclusions, she states, were based on experiments by David Hubel and Torsten Wiesel at Harvard Medical School. The two studied cats that had strabismus, or misaligned eyes. It was noted that the vision in the cats had not developed normally, and that they could not see in 3D.
Many scientists and doctors assumed the cats would never acquire stereo vision because they had not acquired the ability during what is referred to as a "critical period" of vision development. In this period, it was assumed, if certain visual skills (specifically visual acuity and stereopsis) were not learned by the brain, they could not be developed later in life.
Hope with a "plastic" brain
Barry cites that more recent scientific research indicates otherwise. The adult brain appears to be more "plastic" than had been previously thought, and the circuitry of the brain can actually change as a result of our actions and experiences.
In the case of amblyopia, one eye has better visual acuity than the other. There is also difficulty with depth perception resulting from poor or no development of stereopsis. A child who has trouble catching and throwing objects, or is clumsy and always bumping into things may have amblyopia.
For years, medical practitioners have referred to the cat study and told people that there is no treatment for amblyopia, as the critical period had passed. But recent research and treatments using vision therapy have proven otherwise.
Steps to fix a lazy eye
Knowing that the brain can be retrained, developmental optometrists use a variety of methods to get the two eyes to work as a team and see visual space accurately.
The approach begins with finding the right lens or glasses. This includes ensuring you or your child has the right prescription to minimize the "bullying" effect of the stronger eye. Patching and vision therapy, which includes a series of visual activities, may then be used in tandem to retrain the visual system.
Every case of amblyopia is different, and a functional vision test should be administered to determine the extent of the vision problem.
The good news for parents and children is that amblyopia can be corrected outside the "critical period" for vision development (from three months to three years old). And that's critical information for any parent.
2014 UPDATE
Video Gaming Being Used to Treat "Lazy Eye": A trend we noticed over the past year is using video games to help treat a lazy eye (amblyopia).
As we've noted before, the condition of amblyopia isn't simply something that affects one eye. Your entire visual system must be taken into account. Specifically, the brain must use both eyes together.
The video gaming mentioned in the post we linked to above points out the gaming can be used as an activity when patching to help improve the acuity of the eye, which is true. But simply improving the acuity may not lead to the brain using both eyes together.
When the patch comes off, the brain may go back to the old way of doing things and acuity gains may be negated Check out our post for more details on the topic.
Lazy Eye Success Story: In the past year, we also wrote about Maya's vision therapy success story. Her family didn't even realize she had amblyopia. "We never thought anything was wrong," her mother Molly said. Read the full story here.
Other 2013 Posts on Amblyopia (Lazy Eye):
How Do You Know if Vision Therapy Works for Amblyopia and Strabismus?
Amblyopia Treatment for Adults – Is it Possible?
(Photo: lateshoes)