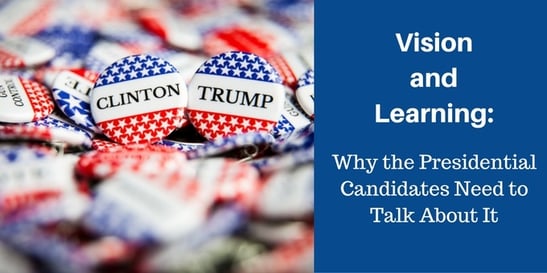 This blog is not about politics. But we'd like to point out a line in a series of proclamations that are being passed by Wisconsin municipalities, and ask a very important question: Why is neither candidate talking about the #1 problem facing education: Vision and learning?
August was first declared Vision and Learning Month in 1995, and Wisconsin has shown it recognizes the connection between vision and learning by issuing multiple city proclamations in recognition of this special month.
In many of the proclamations, one noteworthy line stands out:
As children across the State of Wisconsin prepare for the start of another school year, many of them will begin their studies with undiagnosed and untreated eye coordination and eye tracking problems that could interfere with their ability to read and learn. Research shows that vision disorders are the number one handicapping condition of children.
How Many Children are Affected by Vision Disorders?
According to the College of Optometrists in Vision Development (COVD), as many as one in four school-age children have vision problems that could interfere with learning.
One in four. That's a staggering number...especially for school districts struggling to score well on standardized tests that could affect their school funding.
But isn't this a simple fix? Shouldn't we just prescribe glasses for these children and solve the problem? That's where the big disconnect occurs. We're not just talking about problems with visual acuity, or eyesight. We're talking about vision problems.
Beyond the Snellen Eye Chart: Why Vision is Different
Most people think vision is fully assessed by typical vision screenings, in which a child is asked to read a Snellen eye chart. But these screenings only measure acuity, or the ability to see clearly.
Vision is much more than that. Vision is the active process of seeing an object in space -- we refer to this as "Functional Vision."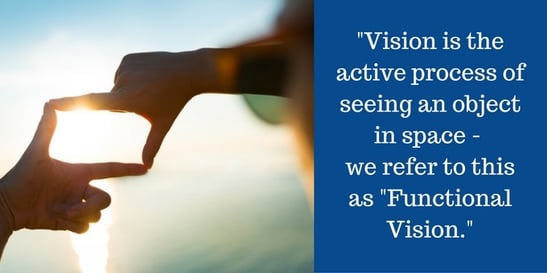 Functional vision is your ability to use visual skills to interact with the world around you. You need these visual skills for everything from catching a ball to reading a book. When your functional vision isn't working well, it interferes with everything you do.
The Visual Systems and the Skills That Make Up Functional Vision
Now that we've defined the concept of functional vision, let's detail why those typical vision screenings fail to capture the one in four children who have a vision problem.
The visual skills we mentioned above include the skills that make up vision, such as eye teaming, eye focusing and eye movements. According the COVD, academic success requires 17 different visual skills.
Evaluating these skills requires more than just testing eyesight. Visual skills are performed by the Visual System, which encompasses our eyes, brain and visual pathways. All three components must work together to create vision.
So now we get to the crux of the problem: How do you detect the vision problems that affect one in four children?
Why Can't We Extend the Vision Screenings to All Children?
This post is not a plea to Presidential candidates for an increase in vision testing funds. That would be nice, but perhaps not realistic -- or even wise.
That's because testing for functional vision problems requires extensive training and the right equipment. The testing must be performed by a Developmental Optometrist, who has received all the training and certification of an Optometrist, but has additional training in the areas of vision development and therapy.
Testing is also time-consuming. Take a look at everything that's included in a Functional Vision Exam. It typically takes over an hour and is very involved. It's not something that could be effectively performed on a mass scale.
So how do we reduce that one in four number?
Detecting Functional Vision Problems Requires Awareness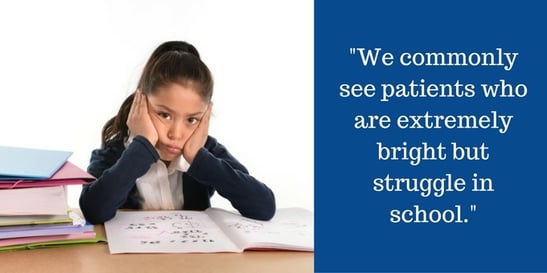 We can't test everyone, but we can watch children for typical symptoms of vision problems. Children suffering from functional vision problems tend to have problems focusing in school. They may complain of headaches, and may even exhibit behavior problems.
In fact, we commonly see patients who are extremely bright but struggle in school. This confuses and frustrates parents and teachers, who don't understand why their children are underperforming.
Here are a number of the telltale symptoms of vision problems. Watch for these signs on a regular basis. If you think your child may be suffering from a functional vision problem, take the Vision Quiz to see if your score indicates the need for a full functional vision exam.
Typical Symptoms of a Functional Vision Problem
The College of Vision Development has provided a list of typical vision symptoms. They include:
Complains of blurred vision

Rubs eyes frequently

Squints

Closes or covers one eye

Occasionally sees double

Able to read for only a short time

Holds things very close

Complains of blurred vision

Poor reading comprehension

Says eyes are tired

Has headaches when reading

Moves head excessively when reading

Frequently loses place, skips lines when reading

Uses finger to keep place

Short attention span

Mistakes words with similar beginnings

Difficulty recognizing letters, words, or simple shapes and forms

Can't distinguish the main idea from insignificant details

Trouble learning basic math concepts of size, magnitude, and position

Trouble visualizing what is read

Poor speller

Trouble with mathematical concepts

Poor recall of visually presented material

Sloppy handwriting and drawing

Can't stay on lines

Poor copying skills

Can respond orally but not in writing

Trouble learning right and left

Reverses letters and words

Trouble writing and remembering letters and numbers
Parents, educators and medical practitioners must become aware of these issues. These are the people who work closest with children; if they are on the lookout for functional vision problem symptoms, we can reach more of the affected children.
One in four children need you to keep a watchful eye out for the symptoms above. If you see them, then take the Vision Quiz. If the score is significant, a Functional Vision Exam can help detect if a child is suffering from a vision problem. From there, prescription glasses, vision therapy or a combination of the two can help a child overcome a functional vision problem.
So we ask our Presidential candidates to raise public awareness that this is one of the major issues affecting education. Take note which Wisconsin municipalities already have. (See the proclamations below.)
August is Vision and Learning Month. Help us spread the word and make parents, educators and medical practitioners aware of the impact of functional vision problems. Help us solve the #1 issue facing education.
Click here to view the Proclamations Issued by the cities of New Berlin, Madison, West Allis, Hales Corners, Waunakee, Whitewater, Beaver Dam, Kenosha and the State of Wisconsin for Children's Vision and Learning Month!