August rolls around again, and with it comes Vision and Learning Month. This year's theme is "Keep Summer Learning In Sight," and with it we're providing a number of links from the College of Optometrists in Vision Development (COVD) to help parents prevent summer learning loss and have fun at the same time.
What is Vision and Learning Month?
Vision and Learning Month was first declared in 1995. The overall goal, as noted by the COVD, is to "help increase awareness among parents and educators on the prevalence of undiagnosed or misdiagnosed vision problems.
The COVD a non-profit, international membership association of eye care professionals that includes optometrists, optometry students, and vision therapists. We've included some links to resources they've made available on Vision and Learning Month 2017.
Every year, the State of Wisconsin and a number of Wisconsin cities recognize the importance of the connection between vision and learning. Both the state and those cities issue proclamations declaring August Vision and Learning Month. Participating cities include:
Brookfield
Green Bay
Greenfield
Kenosha
Madison
Milwaukee
New Berlin
Stoughton
West Allis
Whitewater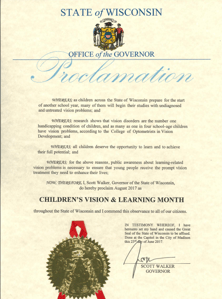 Click here to see all of the Wisconsin proclamations.
2. The Scope of Vision Problems in the United States
As this infographic reveals, 1 in 10 children has a vision problem that is significant enough to impact learning. Unfortunately, typical vision screenings can miss at least 50% of vision problems.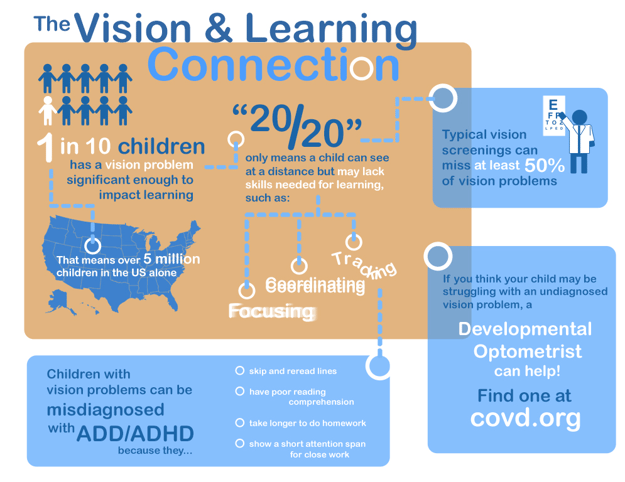 Most often missed are problems that affect the three primary functional visual skills: Eye movements, eye teaming, and eye focusing.
Even if you have 20/20 eyesight, you may have functional visual skills that are impaired. Check out a list of the 17 visual skills you need to succeed in reading, learning, sports and life!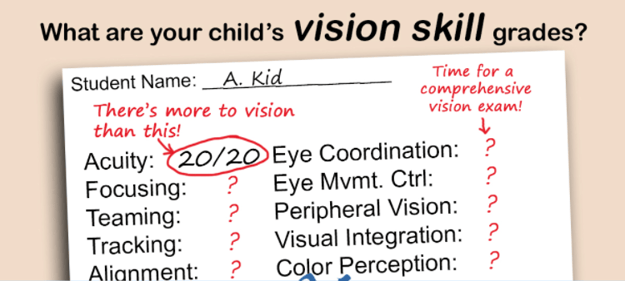 Adults with undiagnosed vision problems can be treated, too. Most adults don't realize they have a functional vision problem, as they've learned to compensate (as best they can) for the issue.
Their lives can be dramatically improved with vision therapy! In fact, vision therapy is often more effective for adults because they are usually more motivated to improve their visual skills.
Take a look at an interactive adult patient's journey through vision therapy.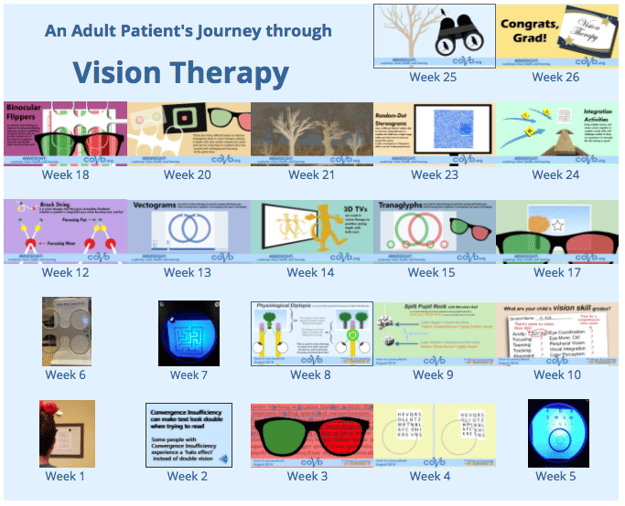 A functional vision exam from a developmental optometrist is critical for detecting problems in the visual skills listed above in children (and adults) of all ages. This video of Piper getting her glasses for the first time is a perfect example.
Check out why exams are so important for children at different ages, including a timeline of your child's visual development.
Check out this page full of "VISIONary" toys from the COVD -- and how they improve your child's vision. Every year we also compile a list of vision-friendly toys for your kids.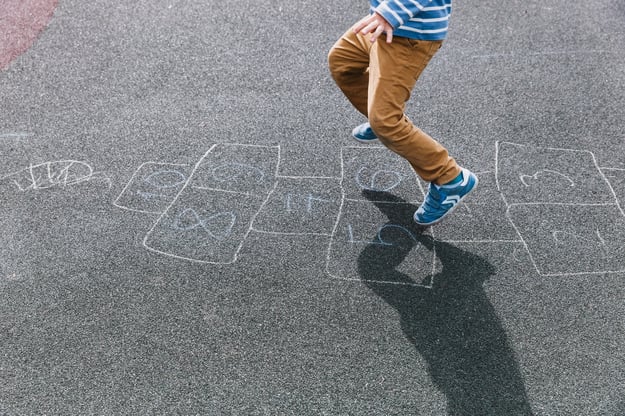 Join us in helping make people aware of Vision and Learning Month! For more information, download our Vision and Learning Guide below!