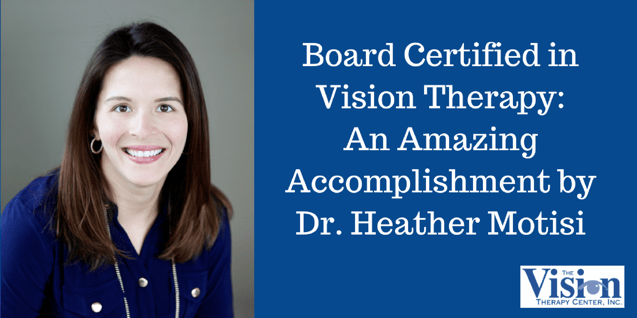 Congratulations to our very own Dr. Heather Motisi. She recently completed her fellowship and has become board certified in Vision Development and Vision Therapy by the College of Optometrists in Vision Development (COVD).
The College of Optometrists in Vision Development (COVD) provides board certification for eye doctors and vision therapists who offer service in behavioral and developmental vision care, vision therapy and visual rehabilitation.
Dr. Motisi has met the high standards of the International Examination & Certification Board (IECB) of COVD, which is the certifying body for the fellowship. It affirms what we've known all along: Dr. Motisi is an exceptional developmental optometrist who truly understands her field.
In many ways, Dr. Motisi's fellowship is the culmination of one journey, and the beginning of a new one.
Following in Her Father's Footsteps, Then Veering Down Her Own Path
Dr. Motisi has optometry in her blood. Her father, Dr. Tom Motisi, has been practicing for 35 years. Heather's initial plans were to follow in his footsteps.
She attended St. Norbert College in De Pere, Wisconsin, graduating with a major in biomedical science, and received her optometry degree from Illinois College of Optometry in Chicago, Illinois.
Yet when she arrived at The Vision Therapy Center in 2011 to complete her externship, she wasn't entirely sure where her career would take her. "I assumed I would do primary care, like my father," she said.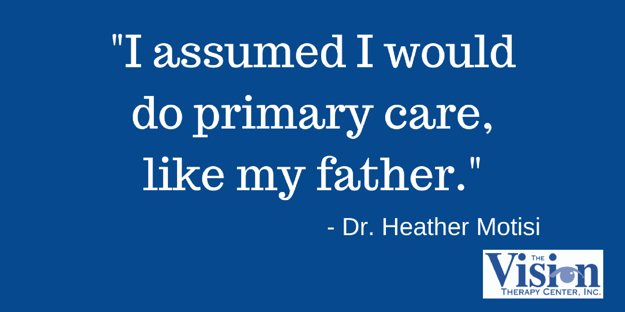 She hadn't considered becoming a developmental optometrist. That all changed as she began to understand more about vision therapy.
Hooked on Making an Impact
After three months at The Vision Therapy Center, Dr. Motisi discovered her true calling. She saw how vision therapy can transform the lives of struggling children and families. Realizing the impact she could have, Dr. Motisi was hooked.
She completed rotations in 2012, and soon came to work for us, collaborating with Drs. Kellye Knueppel and Brandon Begotka and our team of vision therapists.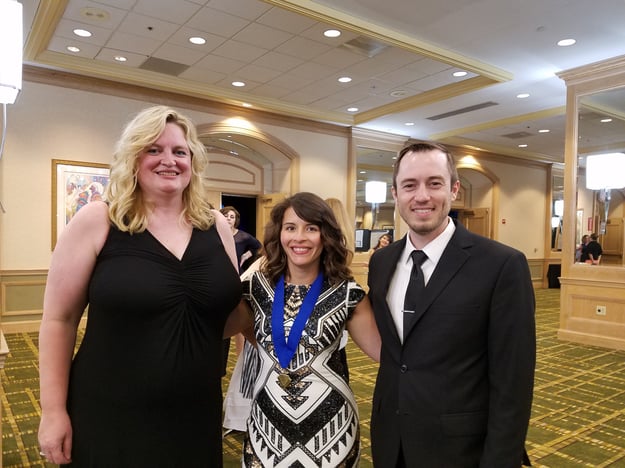 Dr. Motisi with Dr. Kellye Knueppel and Dr. Brandon Begotka at the COVD Annual meeting.
As Dr. Motisi successfully prescribed lenses and guided patients through vision therapy activities, she set her sights on the COVD fellowship. "I knew what I was doing, but I wanted reaffirmation," she said.
Becoming Board Certified in Vision Therapy
A little background on what it takes to become board certified in Vision Development and Vision Therapy, from the COVD:
"To become a Fellow (FCOVD) or Academic Fellow (FCOVD-A), the doctor must have:
Graduated from an Accreditation Council for Optometric Education (ACOE)‐accredited institution.
Been in clinical practice for at least three years, at least two of which have included the direct diagnosis and management of vision therapy patients.
Successfully completed the International Examination and Certification Board (IECB) case reports and answers to open book questions as prescribed by the Fellowship Candidate Guide.
Passed the IECB's oral and written examinations according to the established criteria of the IECB."
Dr. Motisi embarked on this fellowship process in the summer of 2016. She completed the practice component of the requirement and the written examinations. Then, just last month, she participated in the oral interviews at the COVD annual meeting.
Nerve-Racking Yet Reassuring
During the oral examination, a panel of developmental optometrists asked Dr. Motisi a number of questions. She was asked to describe her treatment of previous patients and her approach to developmental optometry, including The Vision Therapy Center's use of syntonics.
It's a test that you can't study for: You have to thoroughly understand your subject matter at a level that is only acquired through practice and experience. Dr. Motisi found herself up to the task.
"It was good - the reassurance that you really do know what you're talking about," she laughed.
As did her fellow doctors, who certified her as a Fellow of COVD later that day.
Affirmation and Acceptance - From Other Doctors and Herself
COVD certified 30 Fellows and 29 Vision Therapists at this year's meeting. It's one of the largest groups ever for the COVD, and a positive sign that more people are entering the field of developmental optometry.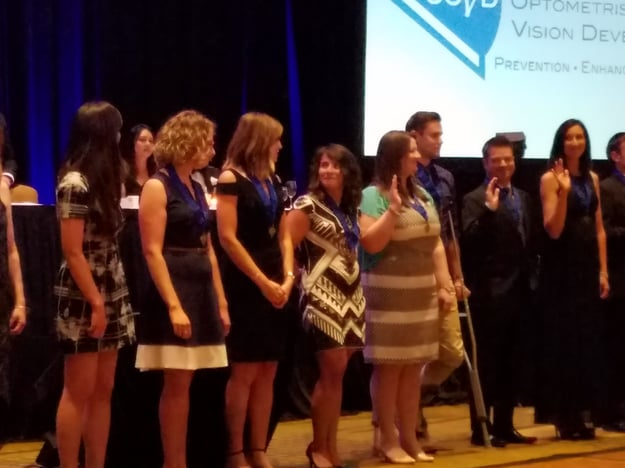 Dr. Motisi at the ceremony.
The evening for Dr. Motisi was special. Following a ceremony, all the new Fellows form a receiving line, and they are congratulated by all current Fellows.
Dr. Motisi described it as "morale-boosting, and a good affirmation that I'm in the right place doing what I love to do." She spent the rest of meeting networking with fellow doctors, sharing ideas and discussing new approaches.
It's All About the Patients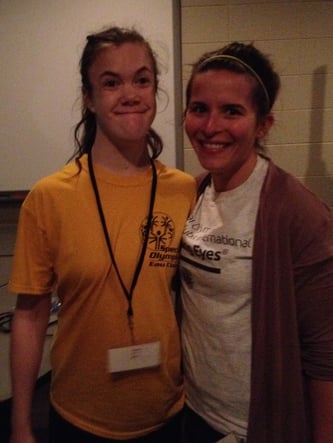 Dr. Motisi at the 2014 Special Olympics-Lions Club International Opening Eyes program.
In the end, Dr. Motisi doesn't describe being named a Fellow as the true "highlight of the weekend." Instead, it was this:
At the awards ceremony, one therapist received an award as Vision Therapist of the Year," Dr. Motisi recalled. "I wish I had recorded the speech. She talked about how she had vision therapy as a kid, and that when she grew up, she sought it out as a career.
After a long search for a doctor who practiced vision therapy, she found one. He told her, 'We will make this a career for you.' Listening to that therapist, who is as passionate about what she does as we are, was fantastic.
Just as she found the therapist's story inspirational, we are inspired by Dr. Motisi's hard work, dedication, and selflessness. Congratulations to Dr. Heather Motisi, Fellow of the College of Optometrists in Vision Development!