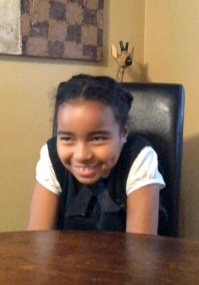 There comes a time when you need to be bold, even audacious, to get your point across. For Dr. Kellye Knueppel and The Vision Therapy Center, that time is now.
For years, we've been patiently reaching out to local educators, media, and parents, trying to explain why functional vision problems are a critical issue to the learning community. Some have listened and worked hard to help us spread the word. But the message doesn't seem to be reaching the influencers.
Every teacher, every administrator, every parent should understand how and why functional vision impacts learning, and why problems with a child's functional vision evades typical vision screening. But they don't. As a result, far too many kids struggle in school.
That's why the time has come for us to make a big, bold, audacious statement with the Atonement Project. This is one of the most ambitious things we've ever done, and we're going to need your help to truly make it work. Watch this video to learn what it's all about.
The Who, What and Why of the Atonement Project
If you didn't catch it from the video, Dr. Kellye Knueppel and her team of vision therapists will test, diagnose, and, if needed, perform vision therapy on the entire third grade class of Atonement Lutheran School in Milwaukee, Wisconsin.
We will also do the same with at least 10 children from each of the other classes, with a goal of eventually examining the entire school. The Vision Therapy Center will also provide functional lenses (glasses) to any children who need them, and perform on-site vision therapy and syntonics treatment (colored-light therapy).
Why Atonement? Why an entire school? And why are we asking you for help?
For the answers, let's take a closer look at Atonement Lutheran School and the scope of the project.
Atonement Lutheran School is located on the north side of Milwaukee, in an area that's underserved with high quality schools. Milwaukee is desperately seeking to improve its educational system, which ranks among the poorest in reading comprehension.
Principal Shaun Luehring has been with Atonement for three years, and has worked diligently to reverse this trend. Over the last few years, the school has tremendously improved reading scores and enrollment has grown from 200 to 300. The school currently has a waiting list of 150 students, and the admissions process is not selective. "We do no testing beforehand," Principal Luehring said.
Dr. Kellye Knueppel approached Principal Luehring this summer and discussed how functional vision problems can impede learning. She asked him if he'd like to improve the school's test scores as a whole, and proposed this project as a method to make it happen.
The more Dr. Knueppel described the profound impact functional vision has on learning, the more Principal Luehring realized that her proposal wasn't just an option – it was a necessity.
Disproportionate Number of Vision Problems
This is not the first time Dr. Knueppel has tested student challenges in schools in the Milwaukee area. In 2004, she tested the 9th grade at another Milwaukee school for vision problems and found the incidence of functional vision issues among the student population to be staggering.
According to the American Optometric Association, one in four children has a vision problem that affects their ability to learn. But the number of vision problems she found at the other Milwaukee school far outpaced those numbers: 70-95% of students had functional vision problems. (After conducting the first round of testing, this statistic is holding true for Atonement.)
This project is be different. At Atonement, Dr. Knueppel and her team will not only conduct eye examinations, they will also fully treat the affected students.
The barometer of success for the program will be measured in terms of academics and behavior. Test scores and behavioral incidents will be monitored throughout the process, and we hope (and know) that these students will show dramatic improvements across the board.
If vision therapy can significantly improve test scores and behavior, the quantifiable results should serve as a wake-up call to schools. Before spending countless dollars on curriculum and teachers, you must address functional vision problems. Vision comes first!
The scope of the project should also generate greater public awareness and publicity within the Milwaukee area, if not nationwide. Imagine the reaction if CNN were to do a story on how a third grade, cured of its functional vision problems, raised its collective test scores in a dramatic fashion?
Parents would take note. They'd begin to ask about functional vision, and wonder why their children aren't being tested for these issues. After all, this isn't just an education issue. It's a public health issue, and it's one that can be improved immediately.
Over 2,000 Hours of Vision Therapy Needed
The biggest problem, as you would imagine, is time and money. Time in terms of staffing hours from The Vision Therapy Center, and money in terms of how to pay for those hours as well as the syntonics kits many of the children will need.
As Dr. Knueppel and her team considered the project and its scope, they determined that staff hours would be needed in several areas:
Testing and diagnosis
Vision therapy and re-evaluation
A typical vision therapy case involves having a patient visit the office for testing and weekly in-office vision therapy. In addition, the patient performs vision activities five days a week at home, usually under the supervision of a parent.
For the Atonement Project, Dr. Knueppel's team wanted to ensure the therapy will be consistent and won't be missed. She has committed her staff to administering therapy on site, every day.
In its entirety, we estimate nearly 2,000 hours of vision therapy is needed. When Dr. Knueppel and her team saw the numbers, we didn't blink. It was decided that somehow, we would find a way to raise funds for this project, and we began the project at the beginning of the school year.
We've already examined 80 students, and have begun syntonics treatments. Cherry Optical of Green Bay has graciously agreed to donate glasses. We're off to a good start.
But we have a long road ahead of us, which is why we need your help.
How You Can Help
In the coming weeks and months, we will be sharing videos and posts about the progress of the children and this remarkable story. You'll meet all the players – administration, students, teachers – and see how vision therapy is making an impact.
But we'd like you to do more than just watch our progress. We'd like you to be a part of our progress.
You can ensure that this project has enough funding by contributing to the Atonement Project. Just click this link, and you'll be directed straight to their donation site. Click on "Other" under the Donation heading, and be sure to include the words "Vision therapy." That assures your donation will help pay for this project. (See graphic below)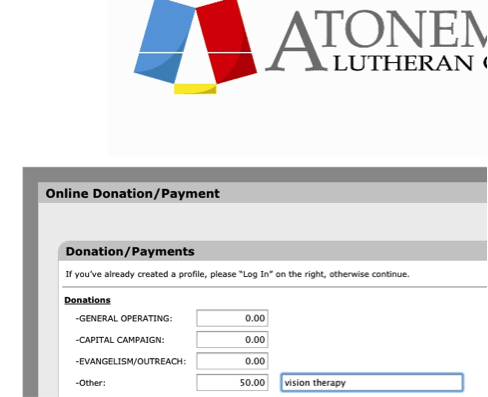 A donation of any size would be appreciated. Please note that because Atonement School is a non-profit organization, this donation is tax-deductible.

If you have any questions about the program or need more specific information, please let us know. In the meantime, we'll keep you updated on this program, which we hope will be as groundbreaking for education as a whole as it is helpful to the children at Atonement Lutheran.