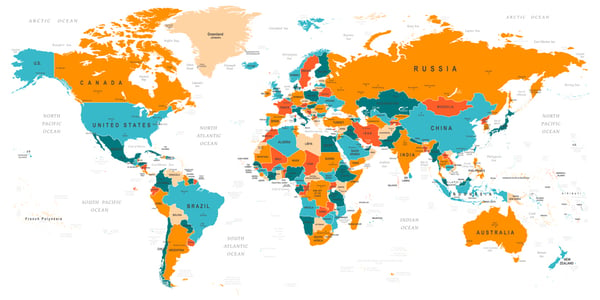 As the school year approaches, the College of Optometrists in Vision Development (COVD) has declared once again that the month of August is National Vision and Learning Month. With this year's campaign, COVD is trying to demonstrate how vision therapy is needed around the globe. We agree, and we've got the blog comments to prove it.Our blog, "Discovering Vision Therapy" receives anywhere from 10,000 – 15,000 views per month, with nearly 350 subscribers. Our readers aren't just from the US, either. Many come from overseas – India, Thailand, the Philippines.
The graphic at the top of this post is taken from our Google analytics. It shows that while the bulk of our traffic comes from the United States, we've also receives visits from practically every nation on the globe.
Because we reach so many people, we receive a steady stream of inquiries from people outside of our area looking for help with their vision problems. For example, our articles about amblyopia have drawn a huge response from around the globe. Here are some comments left from readers of the post The Shocking Truth About Lazy Eye Correction in Adults (as they appeared):


Iam 38years old, with right eye (as lazy/ambliophic) consulted several doctors, all in vain, i'll be very greatful if you can let me know where it is treated.(in india/any country). iam so glad to know that lazy eye can be treated.
I was please,when i read your article on lazy eyes.i have it at adult age, and it quite embarrassing.i do hope you solution will me us here in cameroun.it is disturbing my career as a teacher because ,it is embarrassing to pupil. hope it can be corrected urgently.
Ahh.. a relief! Please tell me from where can I get my lazy eye with squint treated? I am from Pune, INDIA.
My age is 42 and i my left eye is lazy eye can you suggest how to get my left eye treated i live in lucknow,india
Iam 40years old, with right eye as lazy,consulted several doctors, i'll be very greatful if you can let me know where it is treated.(in india or nepal). iam so glad to know that lazy eye can be treated.
i m 23 yr old ,i live in new delhi INDIA,suffering frm lazy eye in right eye plz tell me that how i can treat this ,Plz send some nearest doctor address or phone number
Iam 47 years old, with right eye as lazy, I live in Ottawa Ontario Canada anr Doctor you may know that I can consult with him. I am so happy that there a chance. Thank you kindly.
First I live in (IRAQ - Erbil) I am 34 years old, with left eye (as lazy/ambliophic) consulted several doctors, all in vain, i'll be very greatful if you can let me know where it is treated.(in Iraq or other country near Iraq like Turkeyy). iam so glad to know that lazy eye can be treated.
I'm 22 I live in kent england I have a lazy eye I won't to be normal iv been bullied years for it plz help
Hi, I would like to know if I can find a developmental optometrist in Costa Rica. Thank you
hi, im 17 and i have a slight lazy eye, i am trying to train it myself to not be lazy, by covering my good eye to strengthen the muscles in it. is this helpful? i live in melbourne australia where can i seek help for this an dwill it be expensive?
Now i am in turkey.my right eye is lazy.it can only see %10 normal but with glases %20. İs there any treatment in this condination?
Iam 26years old from Pakistan , with right eye (as lazy/ambliophic) consulted several doctors bt did't get a yet agreed response for improvement, i'll be very greatful if ou can let me know where it is treated.(in Pakistan)
can you advise if you have an office in the Uk, i am 37 years old and have had a lazy eye since very young, i want to know if it is possible to haev it corrected at thi slate stage in life, .It is steadily becoming worse, sometimes it looks totally closed.
ive got a left lazy eye(squint)from past 8-9 years... can it be corrected.. can i please hve the contact details of any of the doctors in karnataka who are capable of correcting it preferably in bangalore /mangalore
Thank you so much for this informative website. I am 22 years old and I currently live in eastern Canada. I've been diagnosed at about 1 year old, and still suffer from amblyopia. I have been involved in research on the issue, but no one is disposed to help me, since my amblyopia is severe (+strabismus). Bottom line is: how much do you charge per vision therapy appointment, and how long in advance should I book?
My left eye suffering from amblyopia could you please helpe finding a doctor for this problem I live in Dubai , Sharjah. UAE
I read your article and it give me a big opportunity that my amblyopia on my left eye can be treated. I am just a college student and i want to treat this 'cause having this give me lack of confidence especially when i'm in a place of crowded people. Please help me! Im in the Philippines living at Laguna. Thank you for this and i hope you will response about my concern.
As much as we'd like to help these people, we can't. Because we need to perform a thorough Functional Vision Test before diagnosing a vision problem, we logistically have trouble seeing people outside our state, much less our country.
Naturally, their next question is if we know of any developmental optometrists in their respective countries. Here's a sampling:
My left eye is weaker than the right eye i am 16 years old and live in india please tell me what can i do to improve my vision??
I found your post about visiting Japan when I was searching for information on vision therapy in Japan. Do have any leads on a doctor in the Tokyo area? I was told by an American special ed. specialist that my 13-year-old son may benefit from vision therapy, and we would love to be able to do that here in Japan where we live. I would appreciate any help or suggestions you can give. Thank you!
Hi, Do you know any doctor or location in South America - Brazil that treats amblyopia? thanks!
Hi. Do you have office in Toronto?
Hi, I couldn't find any doctor in Pakistan from the links in the article. Is there any doctor in Pakistan specially in Lahore?
What about the UK?
Please, let me know if you have doctors in Colombia.
Dear sir, Can you tell me any vision therapist in South Korea. Thanks
Por favor, hay algún especialista en Ecuador?
Our post Domestic and International Referral Sources for Vision Therapy was written to link them to developmental optometrists in their area, but we know that many of these regions are drastically under-served.
Can we assume that functional vision problems are a global issue? Why wouldn't it be? The American Optometric Association estimates that 1 in 4 children have a vision problem that affects their learning. Is that number based only on the US? If it is, our experience has been that areas with lower income levels have increasingly higher incidence of functional vision problems. Our hunch is that the numbers are probably higher, not lower, in some of the regions represented in the comments above.
The COVD is publishing success stories from all over the world as part of National Vision and Learning Month. It will be inspiring to see these success stories, but as you can see, much work is yet to be done.
Do you have any thoughts on how to expand vision therapy, and bring developmental optometrists to these nations? Please leave your comments. We need to think outside the box and our borders to solve this problem.