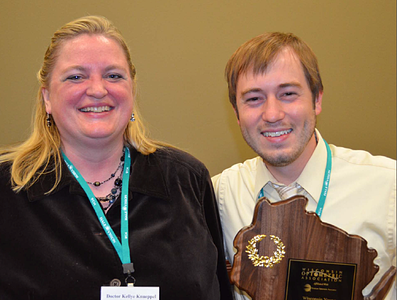 As an indication of the importance of vision therapy as part of comprehensive eyecare, the Wisconsin Optometric Association (WOA) bestowed two honors upon Dr. Kellye Knueppel and Dr. Brandon Begotka of The Vision Therapy Center.
In September at its annual convention, the WOA elected Dr. Knueppel its President, and named Dr. Begotka the 2012 Young Wisconsin Optometrist of the year. The WOA is a statewide organization representing over 620 licensed doctors of optometry.
"Becoming the WOA President is one of the highest honors ever given to me in my life," Dr. Knueppel said. "I am humbled by the fact that my fellow doctors have entrusted me to lead our association as President."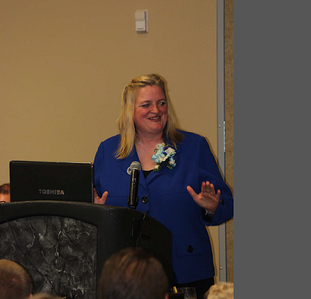 When you take a look at the news release from WOA, it's obvious that Dr. Knueppel's new position is well deserved:

"Dr. Knueppel graduated from the Southern California College of Optometry, after which she completed a residency in vision therapy at the State University of New York (SUNY) State College of Optometry. Since opening The Vision Therapy Center in Brookfield in 1995, she has remained committed to aiding both adults and children in overcoming their vision and eye health problems. Dr. Knueppel opened a second office in Madison three years ago.

After witnessing the phenomenal improvement vision therapy made in the lives of children during her training as an optometrist, she dedicated herself to helping all patients overcome the relatively unknown effects of the "hidden disability" of poor vision.

For her work, contributions to optometry, and volunteer efforts, the WOA named Dr. Knueppel its Optometrist of the Year in 2006. A tireless volunteer for Special Olympics programs and athletes in the state, country, and internationally, she is the current Clinical Director for the Special Olympics Lions Clubs International Opening Eyes Program in Wisconsin and was named a Regional Clinical Advisor for North America for that program in 2011. Due to her knowledge of vision development in special needs populations, Dr. Knueppel has been asked to participate in the Opening Eyes Program at Special Olympics World Games in Greece, China, Japan, Ireland, Alaska and Idaho.

Dr. Knueppel is on the Board of Directors for the Vision Leads Foundation. She maintains membership in the WOA, the American Optometric Association (AOA) Sports Vision Section, AOA Vision Rehabilitation Section, the College of Optometrists in Vision Development, the Optometric Extension Program, and the American Public Health Association. She frequently presents lectures throughout the U.S. to both general and developmental optometrists on the topics of vision therapy, prescribing therapeutic lenses, neuro-optometric rehabilitation, and vision therapy practice management."

Don't worry: The President's role is a volunteer position, and Dr. Knueppel will continue to help patients of all ages at The Vision Therapy Center.

As happy as we were to learn about Dr. Knueppel's new position, we're equally as thrilled that Dr. Begotka received the Young Optometrist of the Year Award from WOA.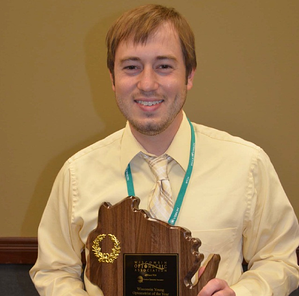 The award is presented to an outstanding doctor each year that has been in practice for less than 10 years. The award recognizes the doctor's exceptional service to optometry, dedication to the visual welfare of the public and service to the community. Again, take a look at what the WOA had to say about Dr. Begotka:

"After being recruited as WOA Milwaukee Optometric Society President by another WOA member doctor on his very first day in optometric practice, Dr. Begotka has maintained an active involvement in the efforts of both the Association and organized optometry in Wisconsin. He remains Milwaukee Optometric Society President and has also served as a delegate for Wisconsin at the 2010, 2011, and 2012 American Optometric Association House of Delegates at AOA's Optometry's Meeting®. He is a member of the Wisconsin Optometric Association, American Optometric Association, College of Optometrists in Vision Development (COVD) and the Optometric Extension Program (OEP).

A leader beyond his involvement with the WOA, Dr. Begotka is the Program Director for the Great Lakes Congress of the Optometric Extension Program Foundation and is on the Board of Directors of the Vision Leads Foundation. He has published several articles in both scientific and optometric journals and has delivered several notable lectures on the topics of vision therapy and neuro-optometric rehabilitation to students and doctors of optometry. Dr. Begotka has also fostered interest in optometry as a career by having optometry students frequently shadow him in his office. In fact, Dr. Begotka's brother Tristan is currently in optometry school.

Dr. Begotka has demonstrated his concern for the public's visual welfare by becoming a Class A volunteer for the Special Olympics Opening Eyes Program in Wisconsin. He has also given lectures to rehabilitation centers on neuro-optometric rehabilitation and for teacher in-service/parent teacher organizations on learning-related vision problems. He is an active member of his church, is active in his homeowners' association, organized the first annual St. Patrick's Day parade in the town of Waterford, WI, has volunteered for the Lighthouse Youth Center in Milwaukee, and is a 15-year volunteer for the Summer Sizzle Jazz Festival in Milwaukee."

We're very fortunate to have such highly talented doctors leading the efforts of The Vision Therapy Center. But it's also noteworthy that Dr. Knueppel and Dr. Begotka have received this level of recognition and trust from the 620 licensed optometrists in the state of Wisconsin.

It doesn't seem to matter how much research or how many clinical successes we generate; vision therapy is often attacked by those who don't understand its efficacy and importance. (More accurately, perhaps, is they don't want to understand.)

WOA's honors serve as proof positive that developmental optometrists and vision therapy play an integral role in a person's comprehensive eye health. We're fortunate to have two such talented doctors leading our efforts in vision therapy.

Congratulations to Dr. Knueppel and Dr. Begotka! We're very proud of you!

Pictures from the big event: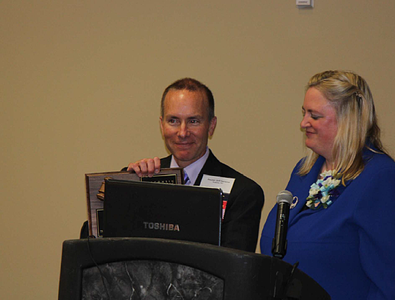 Dr. Knueppel, the new president of WOA, pictured here with current/outgoing president, Jeff Sarazen, O.D.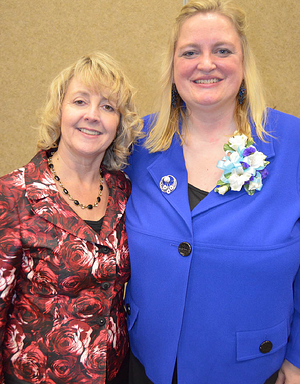 Dr. Knueppel with colleague.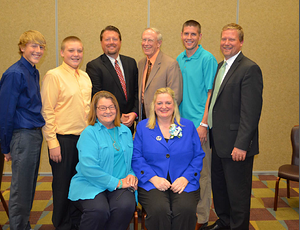 Dr. Knueppel with her family. Standing: Josh, Mack, Klay, Paul, Kon, Klint Seated: Barb, Kellye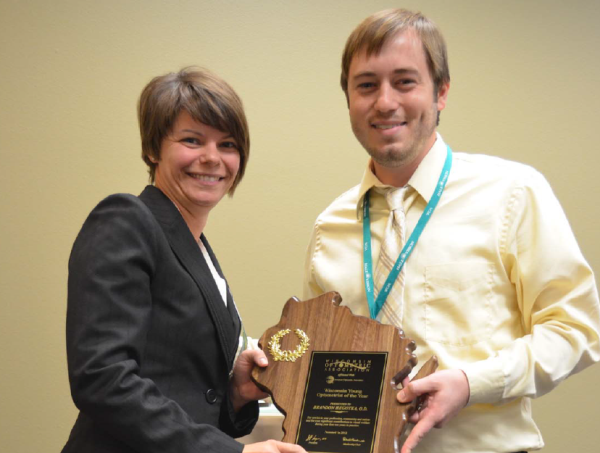 Dr. Begotka named Young Optometrist of the Year by the WOA. He receives a plaque from Callie Enyart, OD.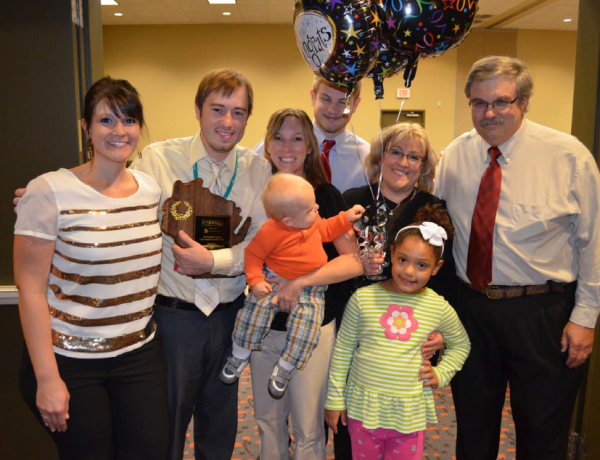 Dr. Begotka with his family: From left - Lindsay, Brandon, Tammie, Tristan, Patricia, Ricky, baby Broden, (standing) his niece Grace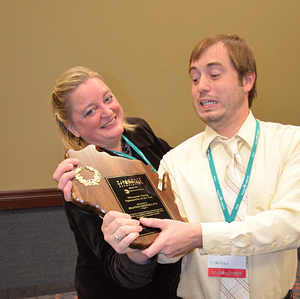 Tomfoolery abounds.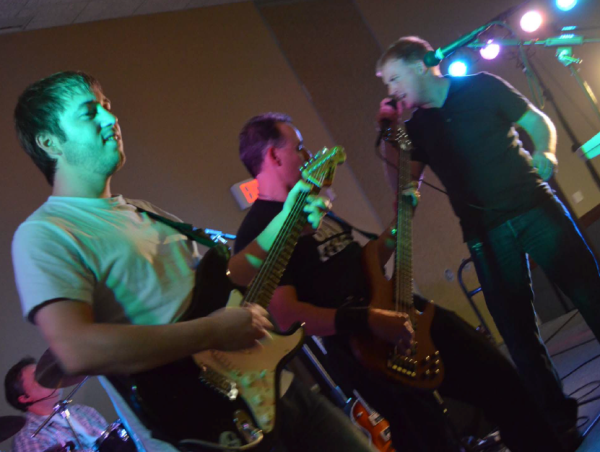 Dr. Begotka rocks the house afterward. Backing him up are bandmates – from left to right: Drummer Chris Marquardt, OD; Lead Guitar Brandon Begotka, OD; Bass Jeff Beyers, OD; Vocals/Keyboard Larry Addison, OD. Not pictured: Rhythm Guitar, Harmonica, Saxophone and Trumpet, Dennis Soderberg, OD.