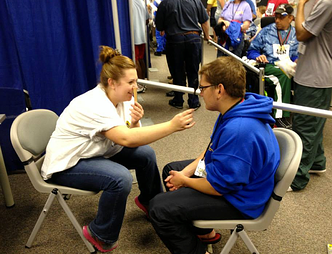 We all have our preconceived notion of what the Special Olympics are like. We've seen the heartwarming videos and the pictures. But what you don't get, unless you are there first-hand, is something I found immensely surprising during my first volunteering gig: The Special Olympians are a lot of fun.
I didn't quite know what to expect as I headed up to the Special Olympics in Steven Point on June 7. This was the 2013 State Summer Games, and I was going to be volunteering at the Special Olympics Lions Clubs International Opening Eyes Program. I would be helping Dr. Kellye Knueppel and several volunteers from The Vision Therapy Center in addition to Wisconsin Optometric Association optometrists and Lions from around the state.
Take a look at our Photo Album on Facebook
I've written about the program before for The Vision Therapy Center, but never experienced it firsthand. I didn't quite know what to expect on my way up. My father was a special education professor at the University of Wisconsin-Whitewater, and he often worked with kids with developmental disabilities. My firsthand exposure to the population was relatively limited, however.
I was very familiar with the Special Olympics Lions Club International Opening Eyes Program, however. Dr. Knueppel and her staff organize and volunteer for both events in Wisconsin – one in April in Oshkosh, and the June event in Stevens Point. Dr. Knueppel has also been fortunate enough to serve as a volunteer for the international games, which we've blogged about in the past.
I arrived at the Health Enhancement Center on the University of Stevens Point Campus on the morning of the event. A group of volunteers gathered in two rooms, and Dr. Knueppel and Kim Jelinske laid out the game plan for the screening. Athletes would be led through a series of stations, with volunteers and optometrists conducting screenings and recording results.
Eventually, the screening would end with a series of vision tests that were conducted by optometrists, and prescriptions were written for new glasses. In general, people with development disabilities have a higher incidence of vision problems, and they also tend to have poorer health care. The program provides them with the eyewear they need to improve their quality of life.
Dr. Knueppel and Kim closed their remarks by saying this was the 13th year and the 24th event to be held in Wisconsin. We would assess our 6000th athlete during this event. And then the screening began.
Laugh Out Loud Funny
I soon found myself conducting depth perception testing next to one of the vision therapists from The Vision Therapy Center, Brian Delfosse. Brian explained the testing procedure, and after watching him conduct it on a few athletes, I was good to go.
Ten tests later, after meeting and interacting with the athletes, I turned to Brian and said, "Not one of them is in a bad mood."
"Nope," Brian replied. "They never are."
I'm not trying to stereotype or generalize, but I had never experienced anything like this. To a person, each athlete was happy to be there. They were polite, they engaged me in conversation, and they laughed at my corny jokes.
After a while, I realized I wasn't just volunteering for a good cause. I was having a good time, like I was hanging out with a great group of friends. Athlete after athlete smiled, laughed and was appreciative.
Watch the video for an example of what I'm talking about.

"At first, I didn't want to do this," Brian told me later. He related a story of how, when he was growing up, he lived next to a man with a developmental disability, and some of the man's behaviors spooked him. The memories stayed with him, and Brian was resistant to volunteer.
A few years ago, he expressed his feelings to Dr. Knueppel. She simply said, "Just try it."
That was all she said, knowing that you have to experience it firsthand to realize how truly unique – and yes, fun – this population is. "I love it now," Brian said. "I come back every year, and every year it's a blast."
Looking around the room, I could see that the same held true for the other volunteers. A lot of laughter, a lot of fun, all day long.
In the end, 323 athletes were assessed and fitted for 286 pairs of glasses and sports goggles. We did a world of good for these athletes, and yes, that felt good to give back to the community.
Beyond that, I experienced something that's not all that common in today's world: There were no complaints, no negative vibes, and no attitudes. Everyone was positive, everyone was upbeat, and everyone was happy to talk to you.
It was like taking a vacation from all the negativity and cynicism we get caught up in our day-to-day lives. If you can award a gold medal for being happy with what you've got in this world, the Special Olympics athletes win. Looking forward to Oshkosh 2014!